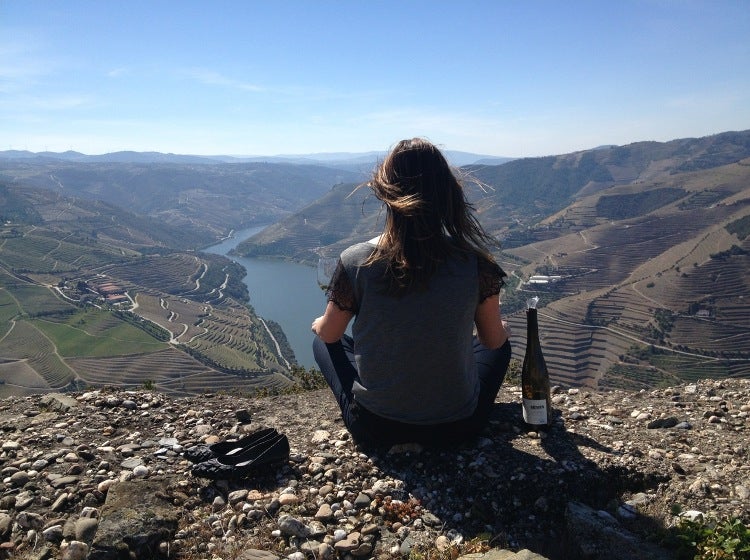 The 2014 red wines and Ports and the 2015 whites (which are becoming increasingly popular!) will be exhibited on the 7th of November from 5 pm till 9 pm at the Vinyl Factory Soho.
The most exciting producers from the Douro Valley
Casa Ferreirinha (SograpeVinhos) / Chryseia (Prats& Symington) / Churchill's / DuasQuintas (Ramos Pinto) / Duorum / Niepoort / Nova Quinta do Sagrado / Poeira / Quinta de la Rosa / Quinta da Boavista&Tecedeiras / Quinta da Gaivosa (Alves de Sousa) / Quinta de São José / Quinta do Crasto / Quinta do Passadouro / Quinta do Pessegueiro / Quinta do Vallado / Quinta dos Murcas / Quinta Nova / Quinta Vale D. Maria / Quinta Vale Meão / Real CompanhiaVelha / Sogevinus / Symington Family Estates / Vertice / Wine&Soul /
Breathtaking
Yes, it is beautiful, but it is a tough region for winemaking. The high mountains are cut into twists and turns by the Douro river. The rocks are too steep for vines to grow on, and therefore thousands of terraces and stone walls, some dating from the Middle Ages, have been carved into the slopes in order to create surfaces for planting vineyards. It's no wonder that the picturesque landscape was classified as a UNESCO World Heritage Site in 2001. The soils are composed of schist and granite and are extremely poor. Hot summers with little rainfall keep the yields very tiny.
Distinctively Douro
The grape varieties have exotic names, such as TourigaNacional, Touriga Franca, TintaAmarela, Sousão, Tinto Cão for the reds or Rabigato, Códega do Larinho, Viosinho and Gouveio for the whites. Both red and white varieties produce genuine wines, with a long aging potential and a clear indication of their origin: distinctively Douro.
More than wine
The tasting at The Vinyl Factory Soho will include not only 26 of the Douro's most famous winemakers, but also producers of regional food and Portuguese crafts. Guests will also learn about hotels and other touristic offers in Oporto and the Douro Valley.
FOOD / DESIGN / TRAVEL
DESIGN: &blanc / A Portuguese Love Affair / AntigaBarbearia de Bairro / BordalloPinheiro / Claus Porto / Laboratoriod'Estorias / Anna Westerlund / Arte Vinho / FOOD: Portuguese star chef Leo Carreira / Casa Painova / Cantinho das Aromaticas / Cacaodivine / Jose Gourmet Sardines / TRAVEL: Crames Concierge Oporto /Pestana Hotels Oporto / Six Senses Hotel Douro Valley /
THE NEW DOURO
7th of November, 2016 from 5 pm till 9 pm
The Vinyl Factory Soho, 16 – 18 Marshall Street, London
Underground: Oxford Circus or Piccadilly Circus
Tickets cost £20 per person or £60 for 4 tickets
Tickets are available here: https://bit.ly/thenewdouro
The ticket includes:
Unlimited sampling of the wines of26 exciting wine producers from the Douro, offering a total of over 130 white, red and Port wines
Learning more about the travel destinations of Douro valley and Oporto (hotel, guides, foodie and wine tours) – Portuguese music
Entry into Portuguese design & food stalls Tickets are non-refundable Strictly over 18 only.
Trade Only Session
There will be a trade and press session during the day from 11.30 am – 5 pm. Please register: thenewdouro@wine-partners.at
Follow us on
Facebook https://www.facebook.com/thenewdouro/
Twitter @thenewdouro
Instagram @thenewdouro
www.thenewdouro.pt