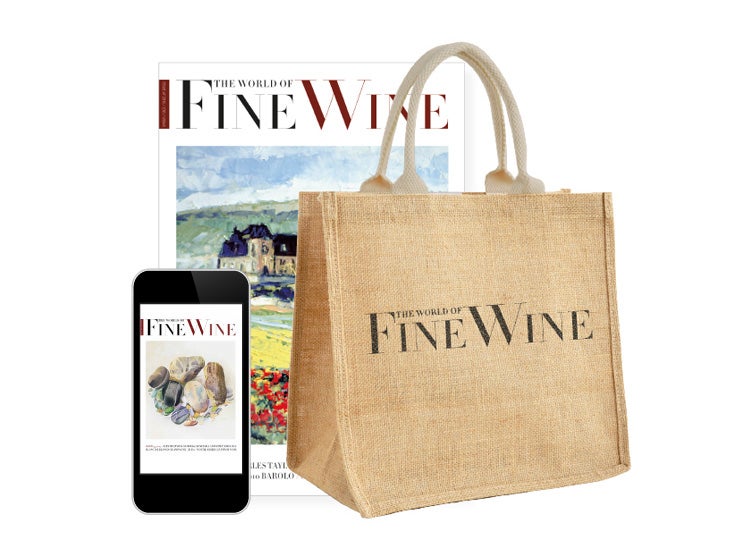 A complete digital library of every issue since 2004
Tim Atkin MW has stated,"It's the only magazine I bother to keep."Subscribers to The World of Fine Wine keep the 216-page quarterly journal for reference because it has a uniqueand lasting value.
With this in mind, The World of Fine Wine, founded in 2004, has launched its digital library. The archive is now fully available free to subscribers, who gain access to all 48 issues and ten years of fine wine content, as well as to every new issue as it is published. Please see below for access.
Why do subscribers keep going back?
Hugh Johnson proclaimed The World of Fine Wine"the first cultural journal of the wine world," adding," it takes wine journalism in a new, more sophisticated direction."
David Schildknecht also affirmed that "The World of Fine Wine is a different sort of wine journal. Which other magazine would dare to treat intoxication, synaesthesia, linguistic muddle, arrested fermentation, Champagne riots, Rabelais's laughter, van Gogh's madness, and gout?"
The magazine certainly offers expert advice on buying wine, including the most recent releases and up-to-dateauction and secondary market information. But it also provides stimulating reading for those who are asking the bigger questions relating to quality, taste, and value in wine, or those who are looking to learn more about the astonishingly rich artistic, literary, philosophical, and religious traditions that have surrounded wine for millennia.
Among the many ground-breaking articles published so far are:
– Professor Tim Crane, Excess: Defenders of Drunkenness from Plato Onwards, WFW 4 (2004)
– Professor Roger Scruton, The Philosophy of Wine, WFW 6 (2005)
– Dr Kathryn Kueny, Sobering Intoxication: Wine and Islam, WFW 8 (2005)
– Alex Hunt MW, The Foundations of Quality, WFW 10 (2006)
– Professor Peter Humfrey, Caravaggio and the God of Wine, WFW 14 (2006)
– Terry Theise, Values in Wine: An Attempt to Codify,WFW 23 (2009)
– Andrew Jefford, Wine and Astonishment,WFW 36 (2012)
– Professor Barry Smith, Wine Appreciation: Connoisseurship or Snobbery? WFW 40 (2013)
– Hugh Johnson, From Earnest Bud to Exotic Flower: Wine Writing Since Waugh,WFW 44 (2014)
The two qualities that most distinguish The World of Fine Wine from other wine magazines are the range of the subject matter and the depth of the treatment. The articles are written by authoritative writers who are experts in their field and who are given the space to treat their subject seriously. While some of the articles are shorter, major features may be up to 10,000 words long – that's several times longer than those in other magazines.
With the app, each print page becomes a web page, so pages can be bookmarked, cited, referenced, and searched by users or web applications. The app allows for other important enhancements: email addresses, URLs, and telephone numbers are rendered clickable, while the tables of contents and indices are also enriched with live links.
Subscribers: Please email kazumi.suzuki@worldoffinewine.com to gain free access to the complete digital archive.
Non-subscribers: Please click here to take out an annual print and digital subscription for £105, an annual digital subscription for £79.99, or to try the app for 90 days for just £19.99.
The World of Fine Wine was Louis Roederer International Wine Publication of the Year all three years the award was made (2010, 2011, 2012).