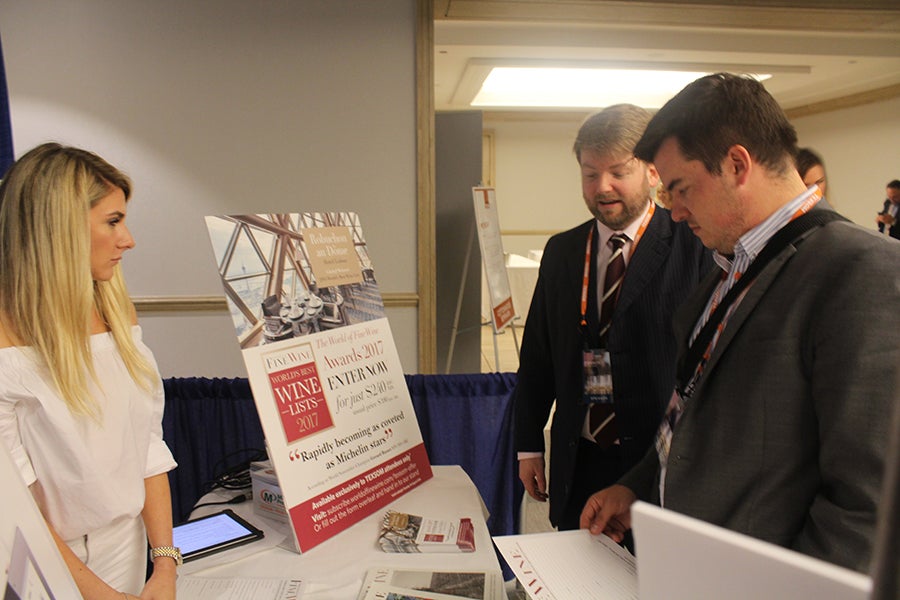 Francis Percival and Tom Stevenson held seminars and discussions in association with The World of Fine Wine at TEXSOM, while head of events, Tiffany Levy, highlighted the World's Best Wine Lists awards and subscriptions at our stand.
Over the weekend of August 12-15 the 2016 edition of international sommelier conference TEXSOM welcomed Master Sommeliers, Certified Wine Educators, Masters of Wine and other respected wine professionals from around the globe to the Four Seasons Resort and Club in Las Colinas, Texas.
The World of Fine Wine's head of events Tiffany Levy traveled to Texas, taking up residence at our designated stand to showcase our digital and print subscriptions and annual World's Best Wine Lists awards, which are now open for entry.
Having started as "simply two guys wanting to do something for the industry", says co-founder and James Tidwell MS, TEXSOM has grown enormously since its inauguration in 2005 and this year hosted an impressive 1,200 international speakers and wine professionals.
Twelve years ago, co-founder Drew Hendricks said he and James brought two ideas together. The first conference hosted just under 100 attendees, "there were four of us in total including James and myself", he quipped. They simply asked themselves, who do we want to learn from? throwing about names such as Greg Harrington and Charles Curtis, and invited these figures to their conference, which is how it all began.
Image above, credit: Courtney Perry
The World of Fine Wine held two bonus seminars at the event, the first, Extracurricular Activities and the Well-Rounded Sommelier that featured top industry personalities Elaine Chukan Brown, Michael Franz Ph.D., Francis Percival, Josh Raynolds, and Mark Tarlov, with Jim Clarke moderating. The second, Philosophy of the Wine List, corresponded to the World's Best Wine Lists awards to discuss what decisions are being made by sommeliers on a daily basis. Moderator, Francis Percival led the group asking questions like: How do you balance business vs wines you are passionate about? Does size matter…size of the wine list? And do you train/teach your team? With standing room only and approximately 100 attendees, the presentation provided a fun and informative experience.
Tom Stevenson, WFW Champagne and sparkling wine columnist and regular contributor, presented on the state of sparkling wine. Stevenson showed attendees a number of interesting and unusual grape varieties as well as an English sparkling wine from Nyetimber and Champagnes Roederer Blanc de Blancs and Taittinger Comtes de Champagne.
The winner of the 2016 TEXSOM Best Sommelier competition is Rachel DelRocco of Camerata at Paulie's in Houston, Texas, who claimed the Best Sommelier title. DelRocco received a scholarship of $2,500 USD from the Guild of Sommeliers Education Foundation to be used for a Court of Master Sommeliers certification program.
Commenting on the event, co-founder James Tidwell said: "We are honored and thrilled to have The World of Fine Wine as a presenting sponsor for our bonus seminars at TEXSOM. These seminars add to the richness and depth of the conference offerings by exploring subjects both practical and nuanced. Both years' seminars are standing-room-only events which affirm their popularity amongst sommeliers. The quality reputation of The World of Fine Wine as a premier wine publication adds to the prestige of these seminars."
"This was the biggest, smoothest, and most focused conference yet. We could not do it without everyone involved," Tidwell added.
Levy shared her admiration of the event: "The World of Fine Wine is incredibly proud to be working with TEXSOM to promote our shared values of wine education, discussion and discovery. We are excited to contribute towards the wealth of knowledge that the next generation of wine professionals are tapping into and interacting with them at such a valuable conference."