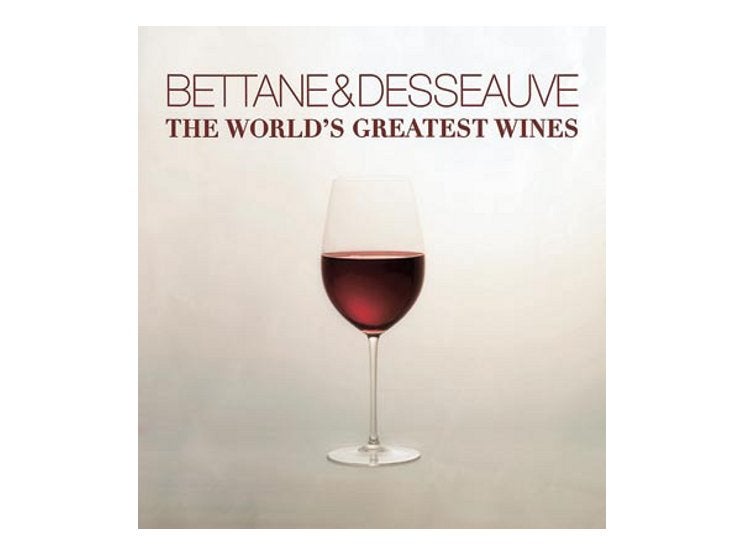 Michel Bettane and Thierry Desseauve,
The World's Greatest Wines
Published by Stewart, Tabori & Chang UK £24.95, USA $45
Reviewed by Tim Atkin MW
"Great" is a popular adjective among wine publishers. A quick scan of my shelves reveals no fewer than six books containing the g word, from The Great Wine Blight by George Ordish to The Great Wines of America by Paul Lukacs, and Great Wine Terroirs by Jacques Fanet to The Great Wines of France by Clive Coates MW. Some of these are more extensive than others. If you exclude the book on terroirs, which focuses on vineyards rather than wine producers, only two authors, both vinous heavyweights, have attempted to cover the whole world in a single tome. Jancis Robinson MW's The Great Wine Book (1982) and Robert Parker's The World's Greatest Wine Estates (2005) both name what they regarded as the best of the best.
It's fascinating to compare the two lists, separated by nearly a quarter of a century of change in the vineyard and cellar, not to mention shifts in critical and consumer tastes. Of Robinson's 37 wineries, 13 do not feature in Parker's more extensive catalog of 156 producers, with noticeable casualties in Germany, California, Australia, and Spain. That was then, Parker seems to be saying, and this is now.
An even more interesting comparison could be made between Parker's list and that compiled by Michel Bettane and Thierry Desseauve, two of France's leading wine writers. The World's Greatest Wines covers many of the same estates as Parker's book but has enough points of difference to make it worth owning both tomes.
At first sight, or rather bench press, Parker's looks the more substantial read at 707 pages, but large chunks of the text are taken up by recycled tasting notes, which are more or less useful depending on your point of view. Parker, amazingly, thinks there are more great wineries in the United States than in Italy. His Australian choices are bizarre, as is the omission of New Zealand and South Africa. Those things apart, the list is surprisingly orthodox, though Parker does include a list of potential "future stars."
Bettane and Desseauve manage to cover a lot more ground, albeit in less depth, profiling 376 producers. (Is the word "great" overcropped when applied to such a long list?) Many of the entries are on the short side, especially when you compare them with Parker's, but they contain a reasonable amount of information and no lack of opinion. Anyone who has met Bettane, the best-traveled and most knowledgeable French wine writer of his generation, would agree that he is not short of confidence in his own abilities. I know Desseauve less well but always enjoyed Le Classement, the annual guide that the pair used to write about French wines. Both men are experienced and insightful tasters.
On the subject of information, one oversight is that the book does not contain the address, website, fax or phone number of any of the profiled wineries. Am I the only reader who wants to know more about the authors' choices or who wants to visit and taste? In that respect, at least, Parker's book is much more useful. If there's a second edition, the mistake should be remedied.
How did the authors arrive at their rather extensive list? They admit that the book will be "seen by many wine lovers as a challenge to draw up their own selections" and that "at least where their own country or region is concerned, these selections will probably be just as relevant as ours." But draw one up they have, searching for wines that possess a "distinct personality." Their emphasis is on "aromatic purity, freshness, finesse, silkiness of tannins (in the case of red) and length on the palate," rather than "richness and power" (perhaps a dig at Parker).
The choice is certainly broad, with barely a hint of (translated) Gallic hauteur. Unlike Parker, the Frenchmen include wines from Hungary, New Zealand, Luxembourg, Switzerland, Chile, Greece, Israel, Lebanon, the United Kingdom, and Japan. "It is astonishing and extremely gratifying," Bettane and Desseauve note, "to see just how far the desire to produce wine of the best possible quality has spread to vineyards all over the planet, benefiting from the experimentation and advances made by international agronomy and enology but always driven by the enthralling passion of the men and women who make the wine."
Do I agree with Bettane's and Desseauve's selections? In the main, I do. Even with such a long list, there are omissions (Hamilton Russell in South Africa, La Grange des Pères in the Languedoc, Alain Graillot in the Rhône, Grosset in the Clare Valley, Allende in Rioja, Knoll in the Wachau, Matetic in Chile, and Pulenta Estate in Argentina). But there are more than enough bold choices as it is. Unlike Parker, who spends most of the time tasting in Maryland, you get the impression that Bettane and Desseauve have traveled and tasted widely. Outside the Rhône, California, and Bordeaux, I would trust their judgment every time over Parker's.
I hope that this is not the only edition of this sumptuously illustrated book. It would be fascinating to see a second edition in three years' time, when new or underrated areas in countries such as Chile, Argentina, France, Italy, Spain, and South Africa will be making even more exciting wines. For the time being, this is an excellent overview of the world's best producers, with some wonderful photography and many insights. At less than £25/$50, the book is also a comparative bargain (Parker's retails at £50/$75)-even if you have to Google the producers to track them down.