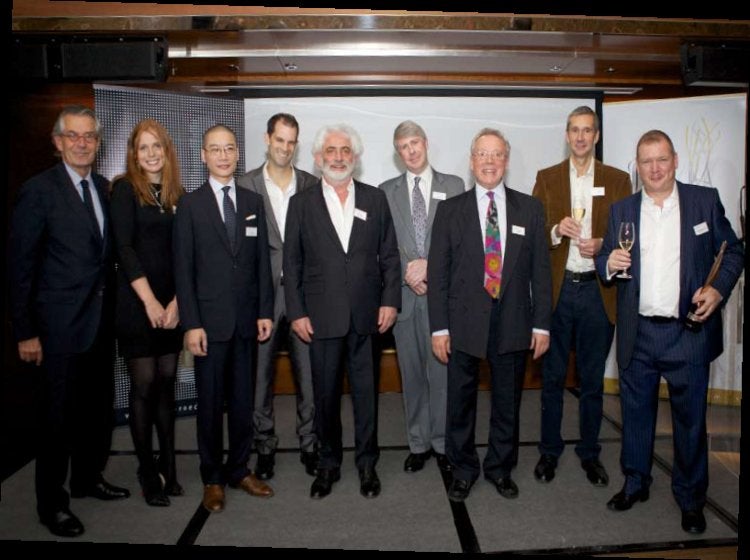 For the third year in succession, The World of Fine Wine has won the Louis Roederer Award for International Wine Publication of the Year. Editor Neil Beckett and publisher Johanna Wilson collected the prestigious prize from Louis Roederer executive vice president Michel Janneau at a glittering event at the Four Seasons Hotel in London on September 17, confirming The World of Fine Wine's preeminent position as the most respected wine magazine in the world. The title, which launched in 2004, has won the award every year since the introduction of the category three years ago.
In other award categories, WFW writers were repeatedly recognized for the quality and originality of their work. WFW contributing editor Andrew Jefford was named International Online Wine Writer of the Year; Peter Liem took the prize for International Wine Website of the Year; Michael Fridjhon was recognized as International Wine Columnist of the Year; Alice Feiring, Ella Lister, Francis Percival, and Jon Wyand were shortlisted for their contributions to WFW or its Finest Wines book series, while other contributors to the magazine-Tim Atkin MW, Stephen Brook, and Joanne Gibson-were nominated in other categories.
Other winners on the night included Colin Hampden-White (the Artistry of Wine Award); Erika Szymanski for her work on www. palatepress.com (Emerging Wine Writer of the Year); Tom Bruce- Gardyne for his work in the Glasgow Herald (Regional Wine Writer of the Year); Evan Dawson for his book Summer in a Glass (International Wine Book of the Year); and John Stimpfig for his work in Decanter and FT: How to Spend It (International Wine Feature Writer of the Year).