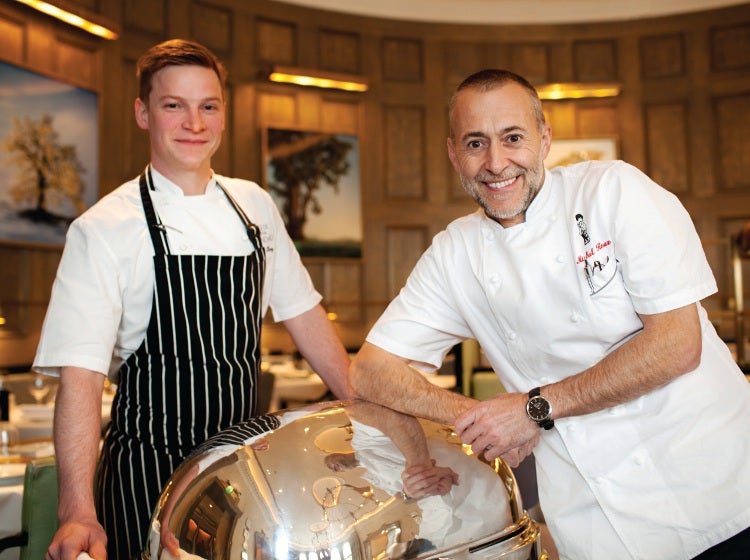 Younger Bordeaux first growths (mostly Parker 100-pointers) to taste; mature bottles of the same at table with six dishes from Michel Roux Jr; Gerard Basset MS MW OBE as Master of Ceremonies throughout — funds permitting, who wouldn't be tempted? And among the 18 tasters were people who had flown in from Sweden, Finland, Monaco, Turkey …specially for this Antique Wine Company (AWC) extravaganza in London on November 28, 2013.
We tasted the five younger wines at AWC's purpose-built wine academy, followed by dinner at Roux at the Landau close by. AWC's managing director Stephen Williams sees this sort of event as a "catalyst, bringing people together in an entertaining way for both sensual and intellectual pleasure," and he also made the point, of which we do need reminding in today's tasting and score-oriented wine market, that "we so often taste and judge in a sterile environment; we also need to drink and enjoy these wines with food, too."
AWC Wine Academy, opened in 2011, is an exceptional teaching / winetasting room, with air-conditioning, unobtrusive sound amplification, and an excellent Powerpoint facility. Here, after a glass of Krug Grande Cuvée and canapés, Gerard Basset led us through the tasting of the five Left Bank first growths. There was plenty of useful background information, on Bordeaux and on each wine, and given the wines in question it wasn't long before price was under discussion. Gerard suggested that Robert Parker had "made" the recent price of fine wine, and noted that two consequences of the substantial price increases had been the emergence of wine as a significant investment vehicle, followed by a concomitant rise in the making of, and market for, fakes.
Gerard Basset MS MW OBE as Master of Ceremonies
Discussing style and quality he mentioned an interesting common thread between the four Médoc properties (Latour, Lafite, Margaux, and Mouton) — that of father Jacques and son Eric Boissenot as consultants, who look primarily for freshness, elegance, and overall harmony, rather than super-ripeness, power, and concentration. Another common thread, he noted, was that, on asking the individual château directors what he should emphasize in his introductory remarks, all of them replied that the most important aspect of their success was their terroir. About which he could talk all night … except that we still had to taste, and to drink, and to dine!
The relatively new (November 2010) Roux at the Landau had us in a private room round a long table. And after the tasting of five relatively young top clarets, from 2010 back to 1996, we enjoyed drinking more mature bottles from 1996 back to 1986.
Introducing the meal and his approach to cooking, Michel Roux said: "I am looking for enough flavor, but not too much …". In so saying he could have been the culinary arm of the Boissenot consultancy! And the six dishes were each a triumph of the culinary art, a delight to the eye (something he is particularly keen on), and beautifully managed in terms of portion size (modest, we were after all having six courses), subtlety, and balance of flavors and textures.
I have described the wine and food pairing in my notes below. One's reactions to these are of course a very personal matter, and I felt that three of the combinations were particularly successful and rewarding. But these were with wines that were splendid even on their own, without food, so it was essentially a question of not marring that splendor. And I wonder whether the two trickiest marriages, with the1986s, were really because a 1986 Pauillac first growth would be a difficult partner in almost any marriage? It was not a year in which it was easy to ripen fully the small, thick-skinned grapes, and I'm not sure they will ever mellow sufficiently to give unalloyed pleasure. Which perhaps begs the question as to what we are to understand by 100-point wines, these being the particular focus of the evening. In the case of the 1986 Lafite and Mouton, "drinking pleasure" would no longer seem to be the primary point — which it surely should be? Am I just being impatient? I think not. It is, I suppose, an imponderable. And in any case for a different article.
This was a wonderful tasting, and a magnificently paced, organized, and orchestrated dinner. Even for the wealthiest among us it is a privilege to drink such fine wines, and an even rarer occasion to enjoy them with such beautifully and specifically conceived dishes. My notes on the wines and the food give you my own view. Gerard's conclusion was that "both wines and dishes were truly exquisite, some absolutely sensational. Of course we all have our own preferences, and that is what makes it exciting." Which it most certainly was.
For the original version of this article complete with tasting notes and food pairings, please see Issue 44 of the print magazine.