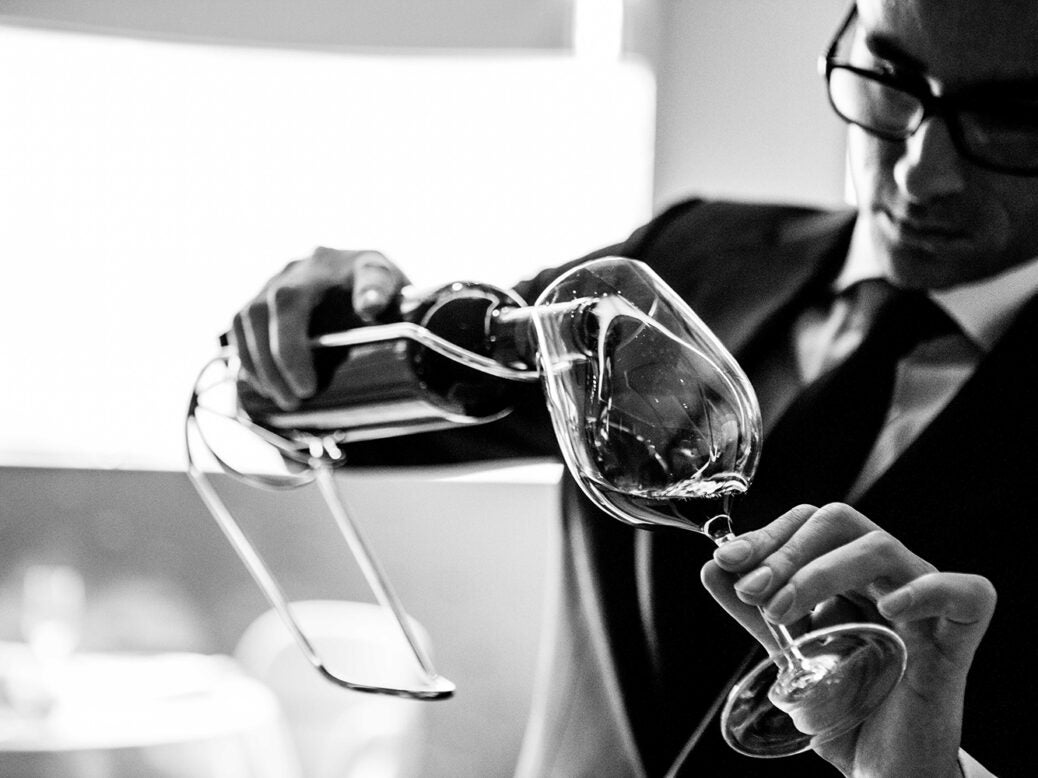 "There is no other drink around the world that creates so much emotion and has so many things to be said about it," says Vincent Pastorello, head of wine at The Dorchester, UK, of his philosophies on fine wine.
With a passion that originated at the early age of 15, Pastorello studied and worked with a tutor across two years who, to this day, still makes an impact on Pastorello and his attitude to wine.
Mr. Panek, Pastorello's tutor, had a distinctive approach to wine, using very simple vocabulary in his portrayal of the industry and the profession, in an effort to ensure wine is accessible to and understandable by everyone.
As head of wine at The Dorchester, Pastorello's primary responsibility is recruitment, alongside wine buying within the hotel, which covers everything from the three restaurants, events, and in-room dining, to the mini-bar; in addition to regular staff training and wine evenings at The Dorchester four times a year. Currently Pastorello has a team of 12 sommeliers working with him who he relies on to uphold the company's quintessence, it is essential that the ambiance of the restaurant and hotel can be reflected in the personality and quality of each individual sommelier. "It is important to find passionate people who come to work every morning with a smile, willingness to learn and to share their knowledge with colleagues and our guests."
"Gone are the days when the sommelier played center stage to showcase his genius. We are people who want to share our passion for great wine," Pastorello adds.
Constant tasting of the wines, meeting with the producers and speaking with the suppliers over the years are what ensure The Dorchester maintains quality across the hotel group, and with the restaurants that Pastorello oversees; Alain Ducasse at The Dorchester, The Grill at The Dorchester, The Promenade bar, the concept remains the same. One of the benefits of being involved in such a prominent hotel group is that it opens many doors, "You are acquiring for much larger numbers which gives you greater purchase power and access to really exciting wines," noted Pastorello, "You also have fantastic diversity in the guests you are catering for, both international palates and clients using the hotel for business and pleasure."
Trends within the wine industry are constant and fluid, yet one of the more evident movements at the moment is going back to the basics and focusing on the product – a notion also expressed by international director of the Michelin Guide Michael Ellis, who commented, "Food is becoming more product-focused. Traceability, we want to know where the product came from, who raised it, who grew it, [and] when it was harvested."
Molecular food had its moment, commented Pastorello, but now guests want to eat great food rather than having an "intriguing food experience", leading him to believe that "bistronomy" will resurface. Local food sourcing, well cooked, great sauce, more rustic style – these are all elements epitomizing the bistronomy concept.
We discuss Pastorello's favorite wines at the moment, where he brings to light his love of wines from Burgundy and Barolo purely for the ability of these two appellations to have completely different expressions, depending on the terroir the grapes are grown in.
"What I love is their uniqueness. Sometimes between two vineyards that are just on opposite sides of the road from each other, you find two completely different expressions even though they may be made by the same grower and vinified in the same way. That is really amazing."
Pastorello's fundamental philosophies on fine wine center on the notions of subjectivity in wine, drinkability, freshness, and in general how "Wine is fun and made to be discussed… The best wine in the world doesn't exist, it's all about the moment and how you are enjoying it," whether the bottle costs £10,000 or £20, says Pastorello.
At The Dorchester my philosophy is quite simple, said Pastorello, "A good wine is when you have a sip, you should immediately want another one. I want our wine to have a sense of place, sense of origin as well as a varietal expression. I want wines that are driven by where they come from rather than by the winemaking techniques."
Coming up next, Pastorello is hoping to continue broadening his wine horizons and those around him, in order to help young sommeliers fall in love with the wine industry. Travel is also on the cards to meet more winemakers and get a thorough understanding of how they make their wine, with the potential to one day be involved in making his own wine, and even beer.