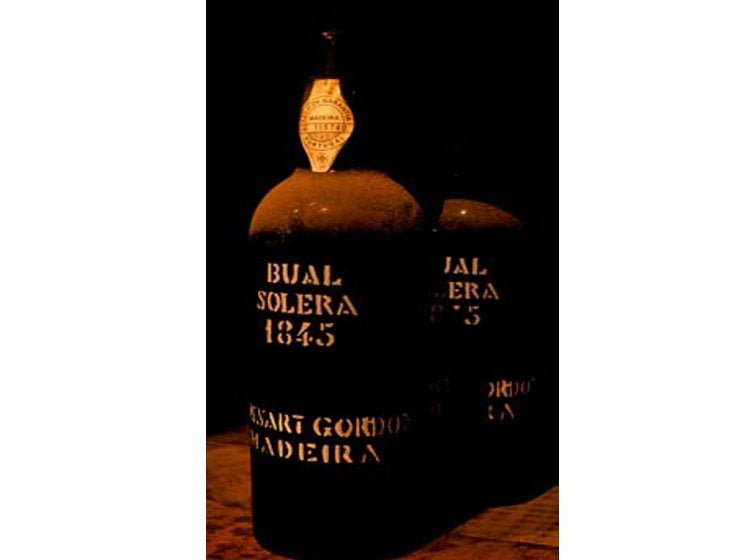 On November 4, 2010, Christie's hosted a pre-auction Madeira tasting at its New York headquarters. It was led by Charles Curtis MW, head of North American wine sales for Christie's, and was attended by a small group of Madeira enthusiasts, among them importer Mannie Berk, who for the past few decades has waged a one-man crusade to revive interest in a wine that was beloved by America's Founding Fathers and was supposedly even used to toast the signing of the Declaration of Independence. Berk's efforts are finally paying off; 150 years after it fell from favor, Madeira is coming back into fashion in America, and it was against the backdrop of this encouraging development that the Christie's tasting took place.
The consignor, who asked to remain anonymous in the sales catalog and will remain so here, was a longtime Madeira enthusiast with a renowned collection of this distinctive fortified wine from the Portuguese island of the same name. All of the bottles at the tasting came from his cellar, and he was on hand for the event. The wines had been decanted four days in advance, and their ambrosial perfume permeated the entire floor on which the tasting was held. The evening's lineup included two legendary Madeiras-the 1827 Quinta do Serrado Boal and the 1795 Barbeito Terrantez-both of which showed beautifully. There were several other outstanding wines, too. But the conversation was nearly the equal of the wines; Curtis and Berk provided wonderful commentary, as did several other Madeira aficionados. It is hard to think of a wine that has a more compelling history than Madeira, and that history came to life in the most vivid and delicious way imaginable during this outstanding tasting.
1860 Cossart Gordon Sercial Solera
A terrific bouquet redolent of candied fruit, cinnamon, flowers, and iodine. A dry, very intense, and spicy wine, with a crème brûlée aspect on the palate. Good acidity and a long, slightly bitter aftertaste. Very good. 16.5/17.5
1934 Cossart Gordon Verdelho
Leather, honey, figs, and spices greet the nose, giving way to a rich but dry and abundantly spicy Madeira, with a pronounced burned note on the back end. Some sweetness creeps in on the finish and persists. Also very good but lacks just a little oomph and cohesion. 16.5/17.5
1795 Barbeito Terrantez
It seems almost sacrilegious to write a tasting note for this fabled Madeira, but here goes. Opens with an ethereal, exotic bouquet evocative of menthol, toffee, molasses, roasted nuts, and honey, leading to a rich, chewy, but supremely elegant wine, with flavors that simply do not quit. Drinking a wine this old is humbling; the fact that it is so delicious and full of life is mind-bending. A privilege to experience it. 20
1927 Leacock Bastardo
The 1795 was an impossible act to follow, but the Leacock acquitted itself well under the circumstances. Aromas of salted nuts, earth, caramel, and figs greet the nose. Full-bodied and rich, with a lovely sense of harmony. But it falls apart a bit on the back end, suggesting its best days are behind it. Still, a very pleasurable wine. 16.5/17.5
1900 Barbeito Malvasia
A deep shade of brown and a deep, brooding nose to match, with notes of earth, leather, tea, and wood. Full-bodied and very rich, with a lovely candied-fruit note across the palate, superb acidity, and a long, fresh finish. A terrific wine, with a wonderful completeness about it. 18/19
1827 Quinta do Serrado Boal
The evening's other pièce de résistance. Decadently perfumed, with scents of butterscotch, brown sugar, flowers, and raisins soaring from the glass. A supremely elegant wine, with an impeccable balance of sweet and savory notes and superb acidity. A quiet intensity that just builds and builds and builds. An endless finish rounds out an epic, staggeringly good Madeira. 20
1845 Cossart Gordon Bual Solera
A very assertive aroma, marked by notes of molasses, tea, dark chocolate, and saline minerality. The sweetness is very apparent on this one, and there is not quite the acidity to support it, which results in a rather fat, heavy finish. Not bad, of course, but not great, either. 15/16
1900 Manuel de Sousa Herdeiro Boal
An inviting bouquet of orange peel, caramel, truffle, and sea salt. A rich wine with a lovely spice-cake note across the palate, excellent acidity to parry the sweetness, and a pleasant bitterness on the long finish. An impressive Madeira. 16.5/17.5
1920 Cossart Gordon Bual
One of the evening's weaker links. A very appealing nose gives way to an elegant but rather one-dimensional wine that fades in the back stretch. This bottle, at least, was clearly past its use-by date, though by no means a burden to drink. 15/16
1934 Cossart Bual
A tough aroma to get by-this one reeked of vomit, to put it bluntly. Duty obliged me to plug my nose and take a sip, and it was better on the palate, with an excellent brown-sugar note ringing throughout. A slightly corpulent wine, but otherwise not bad-so long as you don't inhale. 13.5/14.5
1941 Cossart Bual CDCG
This rarely seen wine was made by Noël Cossart to mark the birth of his son David, who went on to earn an MW and work in the Christie's wine department. A knockout nose offers up notes of spice cake, lemon peel, flowers, and salt. Some nuttiness creeps in on the palate, along with a bit of toffee. Elegant, with fine acidity and a long, exhilarating finish. If only we could all have wines like this to mark our births. 18/19.