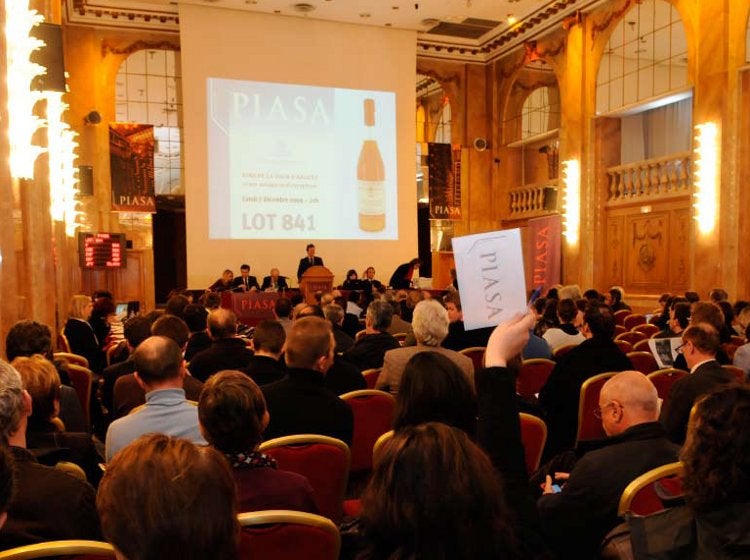 The past decade-and 2009 in particular-has seen a sea change in the wine market, which has proved itself to be an attractive and robust, if tiny, part of the global economy. Château Lafite Rothschild 1982 has stolen the limelight, with a greater-than-tenfold price increase, according to Liv-ex.com, from an average auction price of $3,940 (£2,405) in January 2000, to $39,040 (£24,000) at an Acker Merrall & Condit auction on December 12 last year. Today a case costs around $41,000 (£26,000) from a merchant. The fine-wine market in general has also demonstrated impressively consistent returns, with the Liv-ex Fine Wine Investables index increasing more than two and half times over the period, equating to a compound annual growth rate of 11 percent, compared to the flat performance of stock exchanges, as represented by the Dow Jones.
Fine wine is not immune to wider economic forces, as we have seen over the past year and a half, but prices fell less far and less hard than in other industries. It is for this reason that wine indices appear to have underperformed during 2009, compared to major world stock exchanges, which started from a lower base. The same graph over a two-year period shows a different story. In other words, fine wine is a relatively low-volatility investment and one that is becoming increasingly popular worldwide.
A decade on the up
There is still some way to go in terms of financial sophistication, but the investment funds and trading platforms are proliferating and are here to stay. The Wine Investment Fund opened a new tranche on January 21, and new funds are on their way. As wine prices pick up where they left off in 2008 and show no sign of slowing in 2010, recognizing the true value of wine is ever more important- for investors and consumers alike. This is more difficult than it might seem, since factors influencing pricing are numerous and not necessarily transparent.
Stock market vs wine
Out of the red
On January 26, official figures showed that Britain was the last major economy to emerge from the recession, with a meager expansion of 0.1 percent from October to December. North America had already seen a less tentative return to growth in the previous quarter, at a rise of 0.9 percent on the previous quarter. In the second quarter of 2009, Asia was the region to lead the world out of global recession, with Singapore and Hong Kong both returning to growth, while France and Germany made a surprise appearance alongside them. The wine market was characteristically quick to recover. In the latter half of 2009, wine prices were largely restored to pre-crunch levels, with some even beating their previous highs. The Liv-ex 100 index-the litmus paper of the wine market-finished more than 15 percent up in the year and is set to increase by a further 18 basis points in 2010, according to the Wine Investment Fund. The auction market is back in full swing, with impressive sell-through rates and buoyant results so far this year in wine, as in art. At Sotheby's on February 3, Alberto Giacometti's L'Homme Qui Marche I set a world record for the most expensive work ever sold at auction, fetching £65 million ($104.3 million).
Although we might be out of the woods now, last year was far from being uniformly positive. Against a backdrop of climbing prices, some regions have fared better than others. Bordeaux dominated trading on Liv-ex, filling 19 of the top 20 traded wine spots (Fig.3, top right). Liv-ex's Claret Chip Index was up by almost 20 percent over the year, while trade in Champagne fell by one third over the same period.
Oriental panacea?
Just as Bordeaux boosted the secondary market, a lone region led the charge in the auction world. A 130 percent rise in Hong Kong auction revenues masked a drop of approximately 35 percent in both Europe and the United States. Moreover, while the auction market was back in deceptively full flow by the fourth quarter, boosted enormously by unrelenting demand from Asia, it was down overall by 16 percent on 2008, based on the earnings of the major auction houses.
Unsurprisingly, sell-through rates last year were higher in Hong Kong than elsewhere, averaging 96 percent from July to December, compared to 91 percent in the rest of the world, and many auctions in the city were fully sold. Asian buyers accounted for 57 percent of the value realized by Sotheby's wine department during 2009, with other auction houses experiencing a similar phenomenon. Asia's appetite for first growths continued as two thirds of Sotheby's top 100 lots were sold in Hong Kong, and more than three quarters were acquired by Asian buyers. It was a similar story at Christie's, whose top four lots of last year sold in Hong Kong, though their overall sales are more Europe-dominated, given their presence across the continent. Furthermore, of the 20 top lots, 14 were acquired at Hong Kong auctions.
The orient continued to drive worldwide sales as 2010 got under way, with a "white-glove sale" from Sotheby's in Hong Kong on January 23. Six days later, Acker Merrall & Condit's first two-day sale raised HK$59 million (US$7.6 million) and was 99.6 percent sold, with very strong bidding on non-Bordeaux wines. The largest ever collection of Henri Jayer, and largest superlot of Sine Qua Non, both set new world records, while particular interest was shown in cases of 1947 and 1962 Comte de Vogüé Musigny Vieilles Vignes. Hong Kong's ascent to the number-two spot globally was widely documented toward the end of last year, though Acker president John Kapon was reluctant to make any bold predictions when prompted at his last Shangri-La auction in November. Three months on, following another heady sale, he announced, "We predict that in 2010, Hong Kong will become the world's leading wine-auction center."
Chicago-based Hart Davis Hart, on the other hand, is sticking to its single-city strategy and has the second-highest revenues in the United States after Zachys (Fig.5, overleaf). Based on its January 30 auction, the firm's decision does not appear to be an impediment at this stage. Announcing that "Chicago bests Hong Kong as hammer achieves 154 percent of low estimate," chairman John Hart added, "We have chosen not to limit our efforts solely to Asia. To be the best wine-auction house in the world, we must serve every corner of the globe with the same high standards."
2009 auction revenues by house
Asians are not buying only at auction. Any merchants not currently active in Hong Kong are planning their attack in a market that already makes up a large and growing proportion of their rivals' revenues. At a recent board meeting of one of the longest-established UK wine merchants, it was predicted that the company would be selling more wine in Asia than in the UK in three years' time-a conservative estimate in the view of some present. Bordeaux Index is among those that have benefited from the trend, reporting surging sales of first growths in the run-up to Chinese New Year, with daily orders of around £500,000 ($800,000).
A Hong Kong presence has not protected everyone, however. San Francisco-based company Vinfolio launched in Hong Kong in 2008, and a quarter of its sales were generated there by the end of 2009, yet on January 15, 2010, the firm went into restructuring. A new group of investors led by Jon Moramarco has acquired the company's secured debt, but not before checks bounced and customers were left "disappointed" at the fees they incurred as a result. Moramarco cited a "cash imbalance." The company seems to be doing everything in its power to keep clients abreast of the unfolding situation, but two weeks on from the initial announcement, one customer commented on the Vinfolio blog that "the window of opportunity for Vinfolio to manage further damage to its reputation is closing quickly."
The Silver Tower
Admirably vying with Hong Kong, Paris hosted a sale that put Europe right back on the auction-hype map. The sale of wine from the cellar of La Tour d'Argent, organized by French auction house Piasa, was 100 percent sold after two emotional, action-filled days. The restaurant brought 18,000 bottles of exclusively French wine to auction. This represented only 4 percent of its 450,000-bottle cellar, so fans of the famous duck-the millionth sold in 2003- should not despair; with a wine list 350 pages long, weighing 30lb (14kg), there should still be something to their taste.
David Ridgway, British head sommelier of the restaurant, explained that the sale was to "strengthen the business and make room for new growers and new regions. We've duplicates in the cellars and need to keep our volumes down." Alexis Velliet, Piasa director and auctioneer, added that the restaurant sells less wine each year than it used to, and Ridgway needed to make space in the crowded cellars. According to Velliet, "Ridgway sometimes waits up to ten years before putting a wine on the list," so he is effectively "making a bet on people's tastes years later."
Whatever the motives for the sale, the event attracted hordes of wine lovers and press alike. As the auction began, the grand ballroom in the swanky Salons Hoche was abuzz with buyers and spectators, the queue to register snaking out of the door. By lunchtime, 300 people had signed up to bid, with easily as many again passing through to observe this historic moment, scores being forced to stand at the back. By the same time the next day, more than 1,000 paddles had been allocated to thirsty hopefuls, some of whom popped in and out from nearby offices. (Avenue Hoche is in the heart of the eighth arrondissement, home to Paris's law firms.) Needless to say, many were outbid and forced to leave empty-handed-there were only 1,816 lots in total, though there seemed to be few bulk buyers. It seemed, rather, that enthusiastic amateurs wanted a piece of the action in the form of one or two cases, and barely anyone exercised their option over subsequent parcel lots. Most lots throughout the auction attracted three or more different bidders, and the sale was not dominated by a handful of powerful buyers, as can often be the case.
There was no English translation of the catalog, nor an interpretation during the sale, and there didn't need to be. The French contingent alone seemed sufficient to push prices consistently over their high estimate, with any serious foreign bidders presumably having engaged the services of a francophone agent. While the room seemed dominated by natives, who made up the majority of buyers, phone bidders-often winning the pricier lots-hailed from across Europe, especially Italy, the UK, and Russia, with only a few from North and South America, Africa, and Asia.
An unforgiving gavel
Astonished mutterings of mon Dieu and c'est ridicule could be heard throughout the room as prices soared up to ten times more than their estimates. The first section of the catalog to go under the hammer was white Bordeaux, with the 100 lots selling on average at about twice the top estimate and only a handful falling within the estimated range. Next up was red Loire, again selling consistently at double Piasa's (conservative) predictions, with only one of the 40 lots not beating the top of its range.
The auctioneers quickly assumed an invincible air and opened bidding at the low estimate, essentially eliminating the chance of anything selling below the range in the catalog. Cautious, savvy bidders were met with bewilderment when they refused to compete above the top estimate: "But why?" they were asked when they shook their heads, as though a measured and patient approach to bidding was inexplicable at such an illustrious event. And the hammer-bearers were right; the commonly advised approach of homework and patience was to yield no fruit here. A multitude of hands would frequently rise in unison, leaving precedence to the whim of the auctioneer. Many a frustrated have-a-go was left entirely unnoticed while the fraught bidding took the spoils far beyond their reach.
Large formats, especially magnums, were snapped up, again implying that these purchases were more about owning an ex-Tour d'Argent wine and enjoying it with friends than making a calculated investment. Or at least one would hope so, given that such elevated prices are unlikely to yield any positive future returns. Half-bottles were less popular-not very Gallic, perhaps. The last section of the morning session consisted of almost 100 lots of red Rhône, averaging approximately one and a half times their upper estimate, after which the crowd retired for the obligatory lunch hour-and-a-half, exhausted from all the excitement.
The postprandial session offered no respite from the quickfire tempo and the unpitying counterbidders. Close to 200 lots of white Burgundy were only a warm-up for the main event of the afternoon-the red Bordeaux, which frequently achieved hammer prices between two and six times higher than expected. One bottle of Mouton '55 sold for ¤800 ($1,190), and six of Pavie '61 for ¤2,400 ($3,565), both more than double the upper end of the suggested price bracket before buyer's premium. Three bottles of Rauzan- Gassies estimated to sell at up to ¤60 ($90) in fact sold for a hammer price of ¤350 ($520). This trend was not unique, with three cases of 1996 Château de Fuissé Pouilly-Fuissé each going under the hammer for ¤550 ($815) earlier in the afternoon-around five times higher than their estimated ¤100-120 ($150-180). The lots at the lower end of the scale were regularly most fiercely contested, realizing hammer prices between two and five times their top estimates. This seemed once more to suggest a high degree of opportunist amateurs, captivated by the rarity of the event and the history of the wines. Three bottles of 1970 Château Dalem Côtes de Fronsac with an estimate of ¤30-40 ($45-60) sold for ten times their low estimate at ¤300 ($450), again excluding the buyer's premium.
By 9 o'clock in the evening, it was hard not to mistake trois cents for poisson, or four or five hundred for that matter. It was a long and frenzied day. Thankfully, by the afternoon session on the second day, things had calmed down marginally. In a shock turnaround, the first few "trophy" wines were a flop: Three lots of 1885 Café Anglais Volnay Clos de Chênes each fell short of their low estimates of ¤500 for a single bottle. A lot of three of the same sold for a third of its high estimate at a hammer price of ¤550-still quite a feat given two of the bottles were half empty and the third had very low ullage. The next two lots of 1895 Corton La Tour d'Argent, again with very low levels, fetched one tenth of their low estimate, at only ¤100 before buyer's premium. The remaining 600 or so lots of red Burgundy were sold on average at around one and a half times their top estimate, though many only just above. As the day wore on and the novelty value wore off, dispersing crowds meant that more lots sold within, or even below, their range, and the most patient bidders were rewarded. As night drew closer and the end was in sight, your auctions and secondary-markets correspondent could not resist a case of 1998 Simon Bize's Savigny-lès-Beaunes Grands Liards, which had managed to slip under the radar.
That little stamp
How can such persistently elevated prices be explained? Some might argue that the estimates were simply too low in the first place, which is not uncommon practice in the auction world. In this case it has been argued that the low prices were intended to whet the appetite of potential buyers rather than to ensure comparatively favorable results and noteworthy sell-through rates. Velliet assured me that Piasa had applied estimates they thought "wise and sensible," without considering the prestige factor of La Tour d'Argent, and based on the market where possible, though many of the wines were "not very well known and didn't have a reference on the market." A little independent research verifies this, with wine-searcher.com, Liv-ex.com, and auction-house websites showing that once you include the buyer's premium, the presale estimates are, in general, close to market price.
And yet the sale totaled ¤1,542,767 ($2,290,670)-more than 150 percent of the estimated ¤1 million. Velliet cited the rarity of the wines as the cause but admitted that the same premium for the Bordeaux was strange, given that they could be easily found elsewhere; ça fait un peu bizarre.
So what makes these bottles so special? One concrete and unique attribute they share is a tiny stamp on the label, sometimes in purple ink, sometimes in black, but always representing a miniature turret surrounded by a circle of words reading "Caves de la Tour d'Argent." This stamp, also more grandly referred to as a seal, is in many cases only partly legible, but this differentiating factor nonetheless seems to have captured the imagination-and the wallets -of many a wine lover during those two drizzly days in early December. On one level, the stamp represents exclusivity and prestige, unlocking an innate human desire for that which is hard to get-a desire unlocked by canny proprietor Rourteau in the 17th century, when it was so difficult to get a table in the fashionable Tour d'Argent that duels were fought for the privilege.
For these modern-day auction-goers, the stamp seems to have been symbolic of something more meaningful and poignant, having the power to transport the bottle's owner into the labyrinthine warrens that stretch underneath the more ordered Haussmannian boulevards of Paris's rive gauche, or even back to 1582, when Henri III , the last of the Valois kings, came to dine at the newly opened restaurant. In another sense, too, the grandeur and mystery of the term "seal" are indeed more appropriate than "stamp," since it harks back to the protection of a national treasure from the German occupation in June 1940, when the cellars were sealed by then president André Terrail (see "A Buyer's View," above). According to his grandson of the same name, the current president of La Tour d'Argent, "the wine's new owners are also taking a part of our history with them, so it is quite moving."
Controlled origin
On a more material level, the stamp of course represents provenance and implies good former storage conditions, accounting for a period of the wine's life. Velliet refers to the stamp as "a sign of the buyers' confidence, a guarantee," adding that people are often wary of prior storage conditions at auction. Chosen by the restaurant's sommelier, ordered directly from the estate, then stored in naturally moist, cool, dark and vibration-free subterranean conditions ever since, these wines represent as close to a guarantee as possible of authenticity and optimum storage. This is a significant since consumers are becoming increasingly- sometimes obsessively-aware of the issue of provenance, even visiting storage facilities and photographing incoming goods. Laurie Greer, operations director of Cert Octavian, observes that "with values where they are now in the finewine business, people are becoming much more aware that wine needs to be stored in ideal conditions. It's been a gradual thing; many years ago, people never even questioned where the wine was stored." The wine industry is responding, Cert Octavian issuing certificates for private clients, detailing how long their wine has been stored with the company at Corsham in Wiltshire, UK, and Spectrum Wine auctions using 360-degree photography to create "a DNA print of each bottle sold, to assure its provenance."
Some of the 450,000 bottles in the cool, damp cellars of La Tour d'Argent, of which only 4 percent was for sale at the auction in Paris in December 2009
It seems that, more and more, the price of a wine reflects its provenance, which has become a fundamental element of a wine's makeup, alongside the producer and the vintage. Velliet admits that it is difficult to know exactly "how much provenance adds to the value of the bottle," concluding that "only the buyers know." But while there is no way of measuring the precise effect provenance had at the Tour d'Argent sale or how this was split between the prestige value and the ideal storage, buyers knew it was worth something. "There is no doubt," declares Greer, "that if wine is stored in ideal conditions, it will command a premium.
He has heard this premium cited at between 10 and 20 percent, though Serena Sutcliffe MW, head of Sotheby's international wine department, makes the point that "a wise wine buyer should expect that wine has been perfectly stored"-in other words, this should be the norm.
As for the cost of such storage, you should expect to pay approximately 20-25 percent more to store your wines at Corsham-"the fine wine of the Cert Octavian group," in Greer's words-than with a competing company or in one of Cert Octavian's overground storage facilities. For this cost, your wines reside at exactly 55°F (13°C) and 75 percent humidity, suffering very little vibration or UV light, due to being below ground. At this level of humidity, the labels and cases remain unaffected, which might seem of secondary importance, but it should be borne in mind by any investor wanting to benefit from the growing demand for wines in the Far East, where 30 percent of Corsham's 2,600 private clients are based, and where, in Greer's experience, the outer appearance of the bottle is "paramount." I asked Greer if they were right to care. Surely the inner condition, as represented by the color and the ullage, is more important? He replied that it is their prerogative, depending "who they are and how they feel about it, how much they're spending, and whether they want to present the wine at the dinner table."
Gregory De'Eb of Hong Kong's Crown Wine Cellars (CWC ) told me, "Asians adopted the idea that if it looks perfect, it has probably been stored very well." Greer estimates that a damaged wooden case knocks up to 20 percent off the value, especially in Asia and, to a lesser extent, the USA . While Asians and Americans tend to recognize some value in the perfect preservation of packaging, Europeans are more likely to see the charm in a dog-eared label or dusty bottle. De'Eb, who refers to CWC , and Hong Kong in general, as "the Rolls-Royce of the world at the moment," admits to concern about standards elsewhere, especially in the UK (but not "spick-and-span" Corsham).
Nikos Antonakeas, managing director of New York auction house Morrell & Company, says the premium for provenance is in the range of 5-25 percent, depending on the renown of the source: Ex-château stock would command the highest premium, with wine from a celebrity cellar a close runner-up. This is due not only to a guaranteed storage history, but also to the reduced risk of counterfeit wine, which has become such an issue in recent years.
What price prestige?
How is wine valued, and on what basis? Initially, on its release, price is a function of the perceived success of the vintage and, accordingly, what the château thinks it can ask for the wine. Once the wine is in the increasingly liquid secondary market, price is set globally by the consumer.
Every other buyer of wine-merchant, restaurant, investment fund, or private investor-is ultimately paying a price based on the appetite of the eventual consumer. Of course, this involves a large degree of much-decried speculation, which is not easy when the value-creating components of wine spread so far beyond the intrinsic quality of what's in the bottle and are often far less tangible.
We have seen from the case of La Tour d'Argent that prestige can greatly influence the price of wine, as can provenance; and prestige comes in myriad forms, more often being related to the wine brand itself than to the point of sale. In the last issue I discussed the popularity of Lafite in China and how a brand has been built around the name in much the same way as Hermès or Prada. The 19th-century economist and sociologist Thorstein Veblen, author of The Theory of the Leisure Class, might have attributed the power of the Lafite brand and the Tour d'Argent stamp to conspicuous consumption. His theory was that "conspicuous consumption of valuable goods is a means of reputability to the gentleman of leisure," and "if these articles of consumption are costly, they are felt to be noble and honorific."
Veblen observed that the gentleman of leisure "consumes freely and of the best, in food, drink, narcotics, shelter, services, ornaments, apparel, weapons and accoutrements, amusements, amulets, and idols or divinities." So when Veblen developed his theory in 1899, indulgence in alcohol was already seen as a sign of wealth and honor and, moreover, was thought to convey these qualities by design. Such extravagance can only serve its purpose where there are onlookers. A brand such as Lafite '82 is often paid for handsomely before being displayed on the dinner table, and provenance can have the same effect if someone wants to serve wine from a famous cellar-referred to as "snob appeal" by Sutcliffe. The ostentatious tendency to share and exhibit luxuries is self-perpetuating as friends and foes compete in the "honor" stakes, serving to push up the price of the most highly desired indulgences.
Critical rating
Like designer label Burberry, however, wines as brands can experience fluctuating popularity, being more or less useful as an honorific tool. This is usually due to factors beyond their control, though a wine's reputation invariably has some basis in its intrinsic quality, at least over the longer term. Other factors-not necessarily reflective of a commonly agreed merit-can throw its progress off course. A marketing campaign can cause demand to spiral upward, just as the negative opinion of one or two wine reviewers might have the opposite effect. Consumers can usually feel relatively comfortable that a wine's reputation is merited. The 1855 Bordeaux Classification may seem ancient, but it remains surprisingly relevant (with a few obvious exceptions, such as a handful of fifth growths generally perceived to be as good as many seconds).
Antonakeas agrees that people do pay for the brand name, and that there is "no doubt a built-in price in the major grands crus," but at the same time "the market has decided it's worth it and is supporting those prices." He asserts that "all the marketing in the world won't help a wine with a bad review," implying that a brand can be built successfully only where there is underlying quality.
Lafite Rothschild, 2006, 12 x 75cl
One reviewer, Robert Parker, with his 100-point rating system, has notoriously changed the way that wines are evaluated. His score out of 100 is still the single most important reference point for wine consumers across the globe and is frequently quoted alongside the wine in auction catalogs, as well as in merchant lists. One man has created a dogged, unquestioning following and the power to bequeath prestige upon a wine with a perfect score, even if his influence may now be on the wane. Kapon believes that "today's market is making its own decisions," adding that "highly rated wines don't necessarily get the highest demand anymore." While this may be true, the Parker effect still exists and continues to attract much comment.
Parker's influence is very apparent where the wine is already renowned-in the case of Lafite, for example (Figs 6 and 7, below). 2008 Lafite rose 75 percent overnight on publication of Parker's score of 98-100 in The Wine Advocate on April 30, 2009, then stabilized at around 50 percent above its original level for two months, before increasing almost another 50 basis points over the next six months. In other words, it grew far more rapidly than the wine market, the Liv-ex 100 index rising approximately 15 percent over the same six months. The 2006 Lafite, on news of its upgrade to 97 Parker points (from 91-94), rose 25 percent, then immediately fell back to a price only just higher than before the upgrade. It still performed significantly better, however, than the fine-wine market as a whole, rising 40 percent over the following six months.
Arguably, though, only a fraction of this performance can be attributed to the Parker effect after the initial spike. Particularly in the case of Lafite, brand, more than score, is now the driving force behind its domination; after all, neither the '06 nor the '08 have reached a century (yet). With branding and outer appearance growing ever more important, even the label design on a wine bottle can affect its reception. At a recent tasting, a member of the wine trade commented on the ability of a classical, intricate design in gold to convey the impression of value, whereas Antoine Jobard's modern and minimalist label was "too new age." But surely we should not be judging the wine by its label, any more than we should judge a book by its cover.
A charitable cause
So, if some of us balk at paying a premium for brand, prestige, or outer appearance, for what should we be paying extra? Something that gives us pleasure would be a good place to start, and if there has to be a premium, let it be for charity. Following the relentless nature of the overheated prices on the first day of the La Tour d'Argent auction, it was heartening that one of the biggest overperformers of the evening was a charity lot of very rare Cognac, purchased by a London-based French collector. The 1788 Café Anglais Clos du Griffier Vieux Cognac beat its upper estimate by a factor of eight, realizing ¤25,000 ($37,120) for French children's charity Association Petits Princes. The next two lots of the same spirit sold for ¤17,000 ($25,240) and ¤15,000 ($22,270) respectively. Series of identical lots often decline in price as buyers, having obtained their desired lots, are eliminated from subsequent rounds of bidding. If we assume the opening position of the first bottle was worth ¤2,000 over the second bottle, and its perfect condition another ¤1,000 (the second and third lots had increasingly soiled labels, and as we have seen, condition has a price), we could assign a value of ¤5,000-or 20 percent of the total value-to the charity status of the lot.
Lafite Rothschild, 2008, 12 x 75cl
Thankfully, then, there is an appetite for charity as we emerge from global recession. The annual Hospices de Beaune sale, held on November 15, 2009, realized its secondhighest total since its first sale in 1859, with prices up 20 percent on 2008. On March 2nd, Johnny and Laura Goedhuis, chairman of Goedhuis & Co and managing director of sister company Private Reserves respectively, will host their tenth Wine Dinner in aid of the National Society for Epilepsy and MacIntyre. Since their son was born with Down's syndrome 20 years ago, Johnny and Laura have held a biennial dinner and auction to raise money for medical research and to help children and adults with learning disabilities. If this year's target is met, they will have raised £2 million ($3 million) for charity since 1990.
Ultimately, though, the main source of pleasure for wine collectors and drinkers across the globe can be nothing other than the liquid in the bottle. For those intent only on paying for the quality of what's on the inside, perhaps trophy wines should be avoided. If a premium has to paid, then especially for older wines, indications of correct storage can only be a good thing. Sutcliffe adds that people might also be prepared to pay more if they don't have good access to wine due to where they live in the world, or if they are young and missed out on the opportunity of acquiring a certain vintage en primeur. If possible, time should be taken to seek out the best deals, by looking patiently for bargains at auctions and scouring different merchants' wine lists.