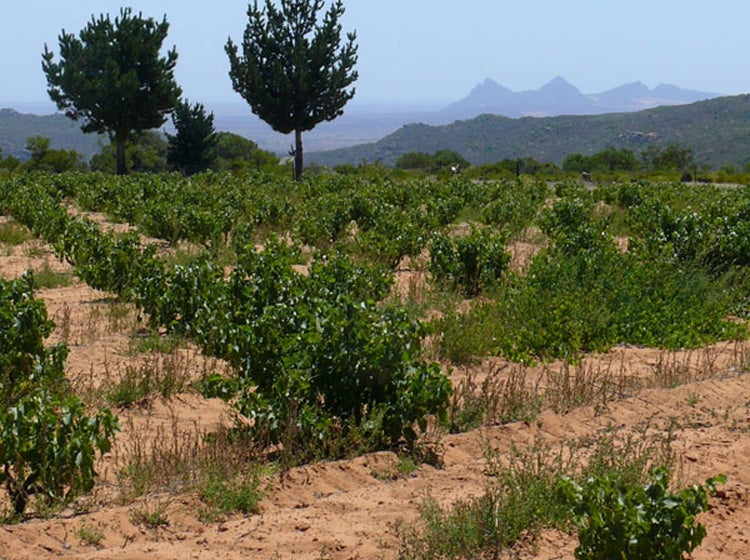 Between the green rolling landscape of Anjou-Saumur and Touraine along the serene Loire and the rough, scrubby hillsides inland from South Africa's Atlantic coast (with not a castle in sight!) is a vast viticultural distance. What respectable viticulturist would think it likely that Chenin Blanc could produce anything worth drinking in conditions so alien to those of Savennières or Vouvray?
So it's fortunate that there were no respectable advisors on vineyard matters in the old Cape, and possibly fortunate that nobody until the mid-20th century made a connection between the grape the bucolic locals called (for reasons one can only speculate about) Steen and Chenin Blanc.
Theoretically it's all wrong. But a modern viticulturist, Rosa Kruger, talks about these vineyards on the Skurfberg (as this low West Coast range is called: it means "ragged – or rough – mountain") as having survived and thrived simply through having the right grapes planted in the right place. With low rainfall but nevertheless unirrigated (there's simply no water available), some ungrafted and growing on their own roots, these oldish (40 years-plus) Skurfberg bushvines produce some of the finest white wines that the South African wine revolution has thrown up: Eben Sadie's Skurfberg, the Botanica Chenin Blanc made by American expatriate Ginny Poval, and the latest marvelous addition, Chris and Suzaan Alheit's Magnetic North Mountain Makstok (the last word being Afrikaans for "own-rooted") to join their Cartology, which includes some of this fruit.
There are a number of other first-class Chenin Blancs being made in the Cape these days from other regions too. It's only apparently paradoxical that the best of them are also planted in the "wrong," warm, dry regions, and that the coolest (most Loire-like) parts, such as Constantia and Elgin, have virtually no Chenin planted at all – though some experiments with the grape in Elgin are producing excellent results, with wines rather different from those of hotter areas.
For Chenin was planted voluminously in the 20th century, especially from the 1960s onward, precisely in the least prestigious areas.It would probably not have occurred to farmers on the Skurfberg to concentrate on anything else – Chenin had proved itself reliable, and was what the cooperatives and big merchants wanted, for brandy, "Sherry," and the semi-sweet fruity wines that were becoming the big thing. And even though they had no water to go with the sunshine to conjure huge yields, they did what they could, sold their smaller yields for the prices achieved by the farmers with access to irrigation, and stayed comparatively poor.
Many such old vineyards were simply ripped up or abandoned – the Alheits call another of their wines Radio Lazarus because of an adjacent radio beacon and because the vineyard that they'd found (in Stellenbosch this time) had to be brought back, Lazarus-like, from the dead.
The precious grapes that are now naturally fermented and carefully matured in old-oak barrels had earlier disappeared into the million-litre blending tanks of the co-ops. It must be remembered, though, that Chenin Blanc remains the Cape's most-planted variety, though its area is much reduced. As in Anjou-Saumur and Touraine, excellence is a property of a tiny minority of the wines made.
The Cape's expression of Chenin is inevitably very different from the Loire's – there's no sign that South Africa can produce the exquisite off-dry delicacy that Vouvray can (but perhaps Elgin will do so; and there are some excellent botrytized dessert wines), and while steely minerality is common to the Chenins of Savennières and the Skurfberg, the flavours and even the structure differ, as they should in honestly made wines from different terroirs.
There's a further nice, hopeful element in the international story of Chenin, though it as yet remains just a footnote. In California, where Chenin Blanc has been despised more than it ever was in the Cape, and is dwindling even faster and with remarkably few ambitious versions, there's perhaps a hint of revival. And if there is, it will in the first instance at least, have more to do with the South African example than the French.
Tegan Passalacqua is winemaker and viticulturist at Turley Wine Cellars and a hero of Jon Bonné's excellent book on The New California Wine; and where Tegan Passalacqua goes, others will surely follow. And one of the places Tegan went, a few years back, was to the Swartland region of South Africa, where he worked a harvest in Eben Sadie's cellar. There he acquired something of an obsession with Chenin that evidently survived his return to California. Recently he released the debut vintages of his own label, Sandlands, including a very fine 2011 Amador County Chenin Blanc (reminiscent to me, like some of the best Cape Chenins, of some austerely grand, not too oaky, Burgundies).
There's another, closely related, connection too. A further ambitious Californian Chenin, from the same vineyard as the Sandlands in fact, has also emerged. It's called The Fog Monster, and was made by Tegan's Swartland friends, Andrea and Chris Mullineux, who do a bit of moonlighting in California – Andrea's home place. The Mullineux pair allow themselves to relax a bit there, it seems: Fog Monster 2012 is a tiny bit funkier than the Chenins they make in the Swartland, though just as elegant and fresh. At just 11.5% alcohol, it was made with carbonic maceration, so lots of skin contact.
Perhaps a Chenin revival is heralded in California too. How about an international renaissance for this widely unappreciated grape? Though it'll be an even tougher job than it's proving to be for another versatile, great white variety, Riesling.