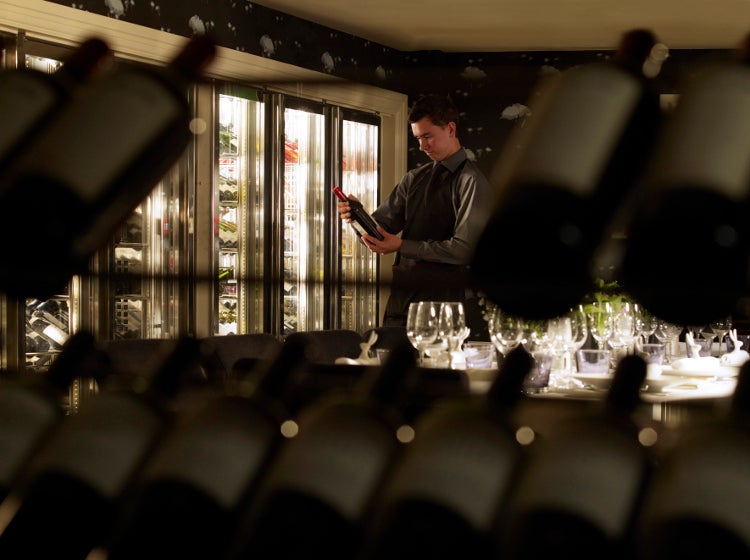 Congratulations on Chewton Glen and Cliveden House's wine lists both being given the three-star rating by The World of Fine Wine. How does it feel to be recognized by such well-established names in the world of wine?
Andrew Stembridge: Both Chewton Glen and Cliveden are no stranger to awards, however I am particularly delighted with this recognition as this is an area we have been very much focused on of late and Oscar has been working tirelessly with his team to up our game. The well-established names involved certainly make this accolade suitably credible and as a result we are deeply honored.
Oscar Malek: Needless to say it feels amazing; we have done so much work (at Chewton Glen) over the past eighteen months to breathe extra excitement into the wine list, not only by increasing the number of references from 700 to over 1,300 but also introducing our English and Welsh wines collection, radically improving the focus on dessert wine sales and exploring quirky wines from countries that had previously not been featured . To receive such recognition for the team's hard work means an awful lot and will surely to spur us on to have another exciting year of innovation.
How will you celebrate this accolade?
OM: I would imagine with a great deal of Twitter-banter along with a magnum bottle of Jean-Luc Colombo Collines aux Lavandes Rosé to accompany a barbecue on a warm summer's evening.
AS: Truthfully we are not great at celebrating success however this strategy is very much intentional. Yes, we will give each other a quick 'pat on the back', however awards and accolades create even more of an expectation for our guests – and the industry as a whole – and hence our default reaction is to work even harder after as a result.
What is the importance of getting wine right for you?
AS: Chewton Glen and Cliveden House are steeped in wine-heritage, having served as residence to several world-renowned wine personalities, notably Gerard Basset MS MW, Alan Holmes and Michael Engelmann MS all at Chewton Glen, as well as Arnaud Goubet and Eric Zwiebel MS at Cliveden, to name but a few. It is vitally important that we offer two very unique wine lists that match the calibre of their respective properties and meet the high expectations of our guests, not to mention giving our restaurant teams a comprehensive tool to work from and of which they can be truly proud.
How often is the wine list updated at the hotels and what process do you follow?
AS: The wine lists at both Chewton Glen and Cliveden House are reviewed and updated on a rolling basis by the Head Sommeliers and their teams. Naturally the choice depends greatly on the season and current trends, but is also very much in line with the producers and suppliers with whom the Sommeliers have a particularly strong relationship. Our wines are sourced from over forty individual importers across the two properties and equally we buy a substantial range of wines from our local English vineyards.
The wine selection at Chewton Glen is extensive. How do the sommeliers choose from over 1,000 selections each night?
OM: Each member of the sommelier team has a number of products from the list that they particularly subscribe to, or perhaps have visited the vineyard or even met the winemaker – other than that everyone has their own areas that they feel comfortable in selling; some might jump straight into Spanish or Portuguese whites, others Californian Zinfandel or Margaret River Cabernet…it's always easier to sell the wines that you know best! That said the entire team are well versed in the whole contents of the wine list.
What makes an effective wine list, from your individual perspectives?
AS: There is the saying that 'bigger is not necessarily better', but that said there is comfort to be had in showcasing a large number of labels as it becomes easier to cover all of the main wine-producing regions and the top producers in the world. It leaves plenty of room for the quirkier lesser-known wines – all of these at prices ranging from cheerful little numbers at £20 a bottle, all the way up to five-figure bruisers.
OM: An effective wine list is one that is comprehensive in its layout, legible and at the same time exciting and different. The broader the range, the easier it is to incorporate blue chip wines at high prices without the selection appearing over-priced or crude… A well designed list is one that sells interesting and high-quality wines without the presence of a sommelier, meaning that when there is a trained professional on hand to offer a recommendation it will only solidify their trust in the offering and allow them to pose more challenging questions regarding a specific product.
What do you feel are some of the most exciting or unusual selections currently on the list at Chewton Glen?
OM: At Chewton Glen we are forever seeking out up-and-coming wine styles from more obscure regions and countries around the world. We are particularly proud of our collection of English and Welsh wines along with a substantial selection of wines from the premium rstates of Austria. Equally we boast an extensive portfolio of wacky and wonderful wines from countries such as Hungary, Japan, China, Mexico, Uruguay, Luxembourg, Switzerland, Armenia, Slovenia, Morocco, Canada…
With one of the most extensive wine lists in the South of England, is it important to you to showcase high quality British producers?
OM: I'm glad you asked me this! It is incredibly important that we do so, to the extent that we have toiled night and day for the past year to establish the country's largest collection of English and Welsh wines. Over seventy individual listings are to be found within the first few pages of our wine list. I have had the great pleasure of visiting many of these estates myself and quite literally bringing home wines in the boot of my car for the hotel to showcase and sell. We are very much involved in promoting the English, Welsh and Scottish wine industries via social media, in the press and throughout our in-house publications. I would love for Chewton Glen and indeed Cliveden House to be at the forefront of a movement that sees the UK wine scene placed firmly on the world map!