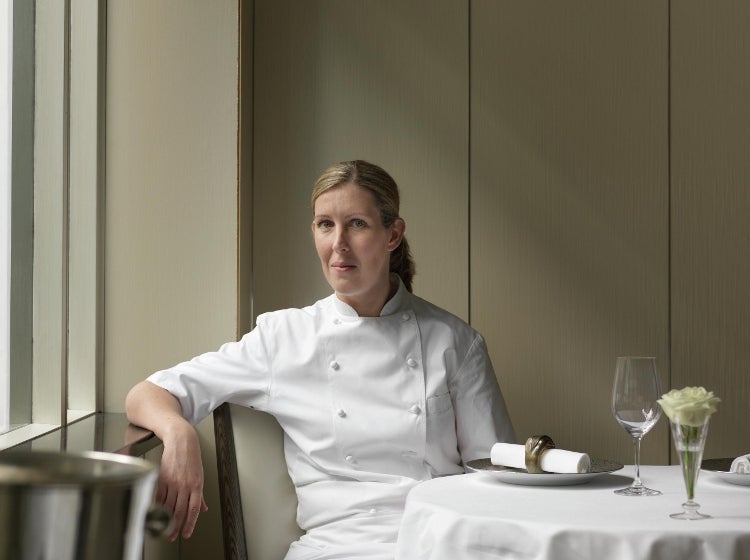 Congratulations on Restaurant Gordon Ramsay's newly three-star-rated wine list. How does it feel to be recognized by such well established names in the world of wine?
Clare Smyth: Really good. It's great to receive any recognition, especially from really respected people in our industry. So we're obviously very pleased about it.
Jan Konetzki: Of course it's an honor to be recognized by such established and well known, iconic people from the industry. And of course we're very happy that the love and work we put into our wine program is recognized.
How will you celebrate this latest accolade?
CS: To be honest, we don't really celebrate any accolades! We don't. You just do what you do every day, and you keep your head down and you just keep working hard. When things come along and you get recognition for things, it's really lovely – but you know, it just puts more pressure on.
It's like any of these things: It puts more focus on you – so more people looking at what you're doing – and you have to deliver an even higher standard.
What do you put this award and the success of the restaurant's wine offering down to?
CS: Well we're pretty much catering to everybody. We really really try to please everybody with our wine list, with our food… everything that we do. We just want to have something for all of our guests on our list. Obviously there is a very diverse clientele, everyone's got a different palate, and you should never dictate to someone how to be.
Some people have a big budget and like to drink the big names with the great vintages and some people are really interested in trying something very different. Jan works incredibly hard to have a really nice selection to suit everyone on there.
How are wines chosen for the restaurant and how often is the list updated?
JK: We have around 100 to 150 positions a month going on and off the list. Because if you have a very big program, sometimes you only have six or less bottles of one of the bins, so once those bottles are sold, it's a new vintage… So yeah, it's very fluid. We move things around quite a lot.
Then of course if I'm excited about a particular area or a particular style of wine, then there's a likelihood that it features on the wine list more. As I'm selecting and buying the wines it's very easy to change things around and to add things that fascinate us and which we think work well with what we do.
How do you personally view the relationship between food and wine?
CS: Hugely important. Wine and food: It's why you go out… and I myself quite often go out for the wine. It's one of the first things that I look at (either) at a restaurant or on a website. I look at the wine list before I've even looked at the menu!
Food and wine obviously have to go together, hand in hand. Great pairings can really make the difference to a dish; it can really make what I would call a 'grand moment'. You know, when you're sitting there eating that plate of food and the wine is absolutely perfect. That's when you're kind of in heaven.
What makes an effective wine list, from both of your perspectives?
CS: Obviously Jan makes great pairings with all of the dishes that we have. And we do tastings and we all have input into it. So obviously it's important to have all of the dishes paired, but then, people have their own very unique tastes and they want to drink what they want to drink. So it's really again having something for all palates; something we would recommend that goes with the dish but also something for everyone.
JK: Having a very big list, you try to find wines and supply wines which are an experience and have character. So that's always my first thought when I think about new wines going on the list: 'Are they standing for themselves?' 'Do they have character?' That's the most important attribute for me in a wine. And next to that, obviously they have to meet different price points, they have to be diverse, they have to come from different areas of the world.
And you don't want to leave anybody out. You want to supply a good mixture of well-established names with niche wines, which enhance the experience of the restaurant and work well Clare's cooking.
What are some of your personal favorites that are currently on the list and why?
CS: I'm actually quite traditional with my wine palate. I really like Burgundy as a region. And what Jan does, which is something I really love, is he's got really great producers and brings them in at quite good value. So a lot of very well-recognized wine producers. He brings in a lot of really quite nice value wines and those are my favorites. So big and white Burgundy. Above all else, if I had one bottle of wine it would always be a white Burgundy.
JK: More recent additions for me were wines from unexpected areas of Spain – like Méntrida – which is very close to Madrid… I see great potential in that area, especially in the part called Cebreros. I see that as an emerging area for top new Spanish wines on the red and on the white side.
I find there are also more and more great German wines imported – white and red. Even though I'm generally not pushing for German wines – because it's always a little bit strange if you're from a particular country – there is a higher demand for dry German white and red wines. And also the classic off dry styles are being sold more and more.
And finally, what is a standout wine and food pairing you've tried at the restaurant recently, if you can think of one?
CS: It's very easy for me. There's one really outstanding combination and it's with our signature dish. A Condrieu which is served with our signature dish, Lobster Ravioli. Amazing.
JK: The floral notes of the Condrieu contrast the sour, crunchy flavours of the sorrel.
Sometimes it's complementing and mirroring flavors, sometimes it's contrasting. It's a little bit about making the point that food and wine should be a better thing together, and it's not always about the way it happens; it's more about the fact that it happens.
We have one of Clare's dishes which is the halibut dish with ras el hanout and cauliflower couscous, which works beautifully with a dry Savennières from the Loire Valley.
The wine has a quite strong mineral sense, which is reminiscent of the smell of the sea, so it has a certain salty component and that enhances the flavors of the fish and promotes the spices of the ras el hanout, without arguing with them. Spicy dishes are dishes which always have a certain fragrance, and spice can sometimes be challenging for wines, but here we reach a beautiful symbiosis of the flavours of the sea and the Oriental spice.