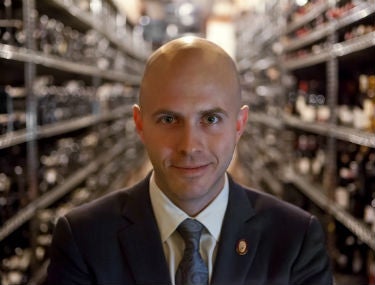 Congratulations on Eleven Madison Park wine list being given the three star rating by The World of Fine Wine. How does it feel to be recognized by such well-established authorities on wine?
It's very humbling but at the same time we (the entire wine team) are very excited to be recognized at such a high level!
How do you plan to celebrate this latest accolade and award?
I think that enjoying a magnum of Champange in the cellar amongst the team should be a good way to celebrate!
How are references selected for the wine list? How closely do you work with the wine team?
Wines are selected based on who we feel are the best producers out there for a given region as well as things that go well with our food and lastly, fit into the idea of the program that we have developed. Everything here is done as a team so the sommeliers and I work closely on a daily basis.
How does the wine list at Eleven Madison Park tie in with the food?
Focusing on the food is our first priority, but that said, there are many types of wines out there that our guests are looking for regardless of if it pairs perfectly with their meal or not. We focus both on the menu but more importantly, making our guests happy!
How do you view the relationship between food and wine on a general level?
I believe that they are meant for one another in a very symbiotic and casual way; amongst friends and loved ones as a shared experience. While there are plenty of wines out there worth contemplating, I believe that the best wines are those that are enjoyed with the people we care about with food on the table.
What's the most important aspect to consider when compiling a wine list, in your opinion? (e.g. having a diverse selection of references, price range, covering all the main wine- producing regions…?)
All of the above. Every wine list is unique and different styles of restaurants demand different things from their wine program. The key is focusing on what makes sense for the menu and the style of restaurant. From there, offering interesting choices at a broad range of prices is very important.
How has the list evolved since the restaurant opened? How often is it updated? What has been added or taken away from the list?
The wine list is a living thing and is changing all of the time. Certain sections have certainly grown (i.e. Rhône, Riesling, Burgundy) and other areas have shrunk. Again, the focus is on the food first and then offering a broad range of wines to meet our guests' needs and expecations. While there are many things about the list that reflect my preferences, it is my job to remember that the wine program is here for the guest. Not ourselves. We update the list on a daily basis.
What is the best-selling wine on the list?
This changes all the time as the list is constantly evolving. Burgundy is certainly our best-selling category overall.
Is there a process between the chefs and wine team with regards to tasting and pairing the wines?
Yes. When new food is about to be rolled out, I set up tastings with the chef ahead of time to find out what kinds of wines work well. This is the best part of my job!
What wines have worked well in the past with food?
My favorite pairing that we do is our whole roasted duck that is glazed with honey, lavender, and spices paired with Syrah from the Northern Rhône in France. Riesling and Chablis typically also work really well with a majority of the menu as our food is typically quite delicate and requires mineral-driven, crisp whites.
The dishes can be quite complex, is it ever a struggle to find a great recommendation to suit a dish?
Absolutely! Sometimes we have to venture outside of just wine to find a good pairing. We've used everything from Sake to Beer to Ciders to pair with certain items.
What is your personal favorite wine on the list and why?
This is really hard to say with over 3,000 selections. Though if I were to pick something it would be Gentaz-Dervieux, Côte-Rôtie 1979. Northern Rhône wines are some of my favorites in the world, this is a top, very traditional producer that is hard to come across these days, and 79 is my birth year.