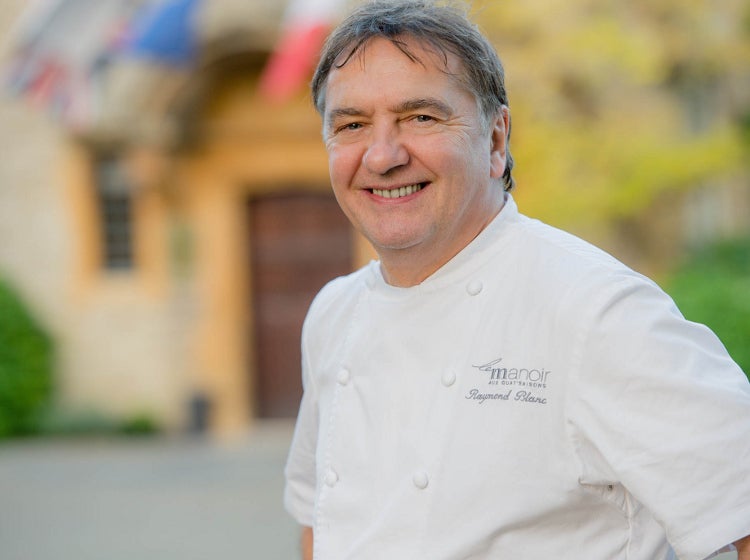 How does it feel to be recognized for a wine list that judges have described as one of the best in the UK and the world?
It is indeed an honor to be recognized among the best among so many entries.
How do you plan to celebrate this latest accolade and award?
With a glass of Champagne with my team of sommeliers, bien-sûr.
What is the importance of wine at Le Manoir?
As important as food. One can't go without the other.
How are references selected for the wine list? How closely do you work with the wine team?
We only look for the best. The team of sommeliers have their own ideas but they always listen to my suggestions of new wines. With each menu and new dish they come to me and we taste, and taste again. At every lunch our teams taste dishes and try wines to tune the matches.
What is the bestselling wine on the list?

It varies. There are periods when the sommelier favors certain wines. The Franche Comté is certainly growing and becoming a bestseller.
How does the wine list at Le Manoir tie in with the food?
It should tie in as closely as possible. The chef and sommelier taste new dishes and revisit old ones when a wine seems to be the right marriage.
How do you view the relationship between food and wine on a general level?
One can enhance the other and generate great emotion, which we enjoy sharing with the world. This is what the sommelier tries to achieve.
What's the most important aspect to consider when compiling a wine list?
Offering diversity, and allowing the guest to discover without getting lost. Covering the main wine production is certainly a hard thing. But having a well-balanced list with great wines that transport us around the world without spending too much is certainly a challenge I want us to take on and overcome.
What wines have worked well in the past with food? Can you pick out a couple of wines that have worked well with specific dishes?
Au Bon Climat Pinot Noir with sea bass, red wine and star anis sauce
Poulet au Vin Jaune et aux Morilles with Les Vignes de Mon Père Savagnin from Ganevat
Risotto aux Champignons Sauvages with Chassagne-Montrachet
What is your personal favorite wine on the list and why?
Gevrey-Chambertin 1er Cru Clos St-Jacques 2009 Sylvie Esmonin. I've loved the appellation and its wine for a long time. It's really exceptional with taste and finesse so well-tuned together.
What is your favorite food and wine pairing at Le Manoir?
Lobster and red pepper sauce with a great voluptuous Chambolle-Musigny.