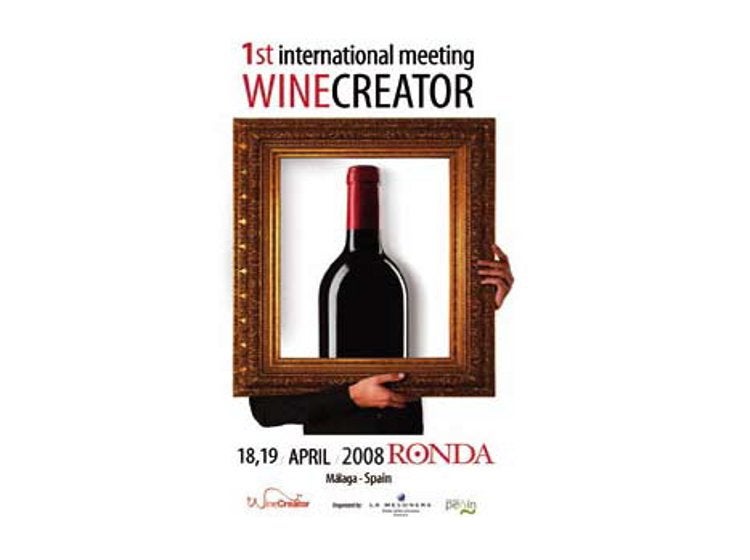 by Neil Beckett
At the First International Meeting of Wine Creators, held at Ronda in Malaga on April 18-19, a group of influential wine writers and winemakers discussed several important issues relating to globalization, quality, and diversity in wine. It was initiated and organized by La Melonera, a grape-growing and winemaking project in Ronda, and Grupo Peñin, the publishing and PR group headed by respected Spanish wine writer José Peñin.
Jancis Robinson MW, honorary president of the meeting, gave the opening address (assuredly not only, as she modestly protested, because of her "ability to speak English in a loud, clear voice"). She explained that she, Michel Bettane, José Peñin, and Victor de la Serna had been asked to form an advisory committee and to recruit 16 other writers from around the world to an expert panel. Roughly half of these attended the event: Pierre Casamayor, Ernesto Gentili, Rodolfo Gerschman, Joshua Green, Joel Payne, John Radford, David Schildknecht, and Eleonora Scholes. The others were Bernard Burtschy, Bob Campbell MW, Michael Fridjhon, James Halliday, Robert Joseph, Charles Metcalfe, Peter Moser, and Stephen Tanzer. They had each been asked to nominate three winemakers, from whom 12 were invited to participate: Jean-Claude Berrouet, Riccardo Cotarella, Stéphane Derenoncourt, Paul Draper, Denis Dubourdieu, Carlo Ferrini, Olivier Humbrecht MW, Alesv Kristancvicv, Dirk van der Niepoort, Álvaro Palacios, Danni Rolland, and Peter Sisseck.
Fruit-driven vs terroir wines
The first of five sessions had as its theme fruit-driven wines versus terroir wines. Dirk van der Niepoort affirmed his strong belief in terroir, saying that while "good" wines are 50 percent terroir and 50 percent winemaking, "great" wines owe far more to terroir. After stating a preference for the term climat or cru, Bettane emphasized that "sense of place" operates at different levels, from an entire region (such as Champagne) to a single vineyard (such as Clos des Goisses): "A blend from all over the world would still have a sense of place – Earth as distinct from Mars or Venus."
The panel for this session was divided on climate change and the use of irrigation. For Alesv Kristancvicv, irrigation was as undesirable as a battery-farmed chicken. He insisted that vines would adapt to the changing climate. Niepoort added that winemakers needed to adapt as well. "It's astonishing to me that we are still taught how to get ripeness. We are obsessed with maturity, getting vineyards riper and riper and riper. We should not go obsessively in one direction." Victor de la Serna suggested that irrigation could be used "intelligently" to combat the threat of extinction, to which Bettane replied that even then it might give a better, more distinctive wine in terms of quality, but a less good, less distinctive wine in terms of personality. He said that in Europe there used to be more personality and less quality in wine, and blamed wine writers in part for the more recent reversal: "Critics hypocritically say that they want differences from year to year. But they also want high quality all the time." Joshua Green added that the same distinction could be drawn in the USA as well: Rubicon dry-farms some of its vines and drip-irrigates others, he said, which gives a better but less distinctive wine than Frog's Leap, which is entirely dry-farmed. For Niepoort, the problem is not so much irrigation per se as the people who employ it. Many use it because they think they need it, but they don't really; while those who really do need it should not be growing grapes where they are.
Adding distinction in the vineyard
The second session addressed the question of how wines could be made more distinctive in the vineyard. Denis Dubourdieu cited Molière's observation on the importance of being liked, and insisted that wines also need to be liked but must not become boring. The best way to reduce the risk is to offer complexity and personality, which are difficult to add in the winery and result from having the right vines in the right places. José Peñin agreed on the importance of the vineyard as a way of distinguishing wines, especially when the same techniques are available so widely in so many wineries. For him there are still too many boring wines, even at a very high quality level (90-95 out of 100 points). John Radford suggested that part of the solution lies in lower yields, and Álvaro Palacios said that this was one of the steps he had taken in Priorat, partly by reducing irrigation. Dubourdieu, however, said that lower yields are not always beneficial, and more so for reds than for whites, while some vineyards are naturally more vigorous than others.
Adding distinction in the winery
The third session considered how wines could be made more distinctive in the winery. Stéphane Derenoncourt admitted that while defects had often been parts of a wine's personality in the past, a new generation of winemakers wanted to produce more perfect wines.
At the same time, he insisted that differences among wines should result from differences in the vineyard, and that winemakers should respect these, resisting the temptation to seek their fame and fortune through more heavily stylized wines. Eleonora Scholes reminded everybody that "a wine never makes itself," and that it is always a question of how much control a winemaker exercises: "Does he act as God or as a handservant?" Joel Payne noted that "signature" wines are the fastest-growing sector in the US market, and asked Derenoncourt whether he worried about being a "signature" winemaker. He replied: "We're not stylists. Our role is to give an external point of view, to help producers by offering them options they hadn't thought of. My place is in the back seat; I don't like to be in the front. I like it when a wine is different from the rest."
Tradition and innovation
At the fourth session, attention turned to questions surrounding tradition and ionnovation. Paul Draper explained that it had been "epiphanies" in the shape of wonderful old wines — Bordeaux from vintages like 1928, 1929, 1945, 1947, 1948, and 1949, and California wines from the late 1930s — that had inspired him to adopt the traditional techniques he still uses at Ridge some 40 years on. Peter Sisseck agreed: "You have to taste these old wines to know what great wine is. Now we taste far too many young wines." He also expressed the opinion that in Ribera del Duero, where he produces Pingus, traditional varieties do better than Cabernet Sauvignon. Palacios also stressed the importance of traditional varieties and vineyards that, he said, needed to be recovered in Spain. When de la Serna invited one of the panelists to speak up for innovation, it was left to Dubourdieu to point out that it is often innovation that reveals tradition, and that it has also helped to save whole harvests, as well as reduce the threat from diseases such as flavescence dorée and esca. More controversially, he suggested that the recent mapping of the grape genome holds out huge possibilities in terms of improved disease resistance and reduced dependence on fungicides and pesticides. Sisseck, however, drew attention to the way in which some innovations, such as clonal selection, have resulted in a loss of biodiversity in regions such as Bordeaux, and therefore in a loss of diversity in the wines.
Media and the market
The fifth session explored the influence of the media and the market. Sisseck reacted strongly to a suggestion from the floor that producers slavishly sought to please wine writers, "as if we were talking about big elephants." Ernesto Gentili said he believed that wine writers had influenced the taste of wines over the past 15 or 20 years, but that over the past ten or so, consumers had become much more sophisticated and ready to trust their own taste. He suggested that there are different markets in every country, and wines for every market.
David Schildknecht asserted that many more producers than ten years ago are trying to make wines of quality and personality, but that well intentioned and serious as many of them are, they will not all survive; the fine-wine market is growing, but not at anything like the speed at which new wines are coming onto the market. "The interesting part for incubating talent is in the middle," he proposed, which will involve addressing what he termed "the schizophrenia in prices." Payne, however, suggested that as with shoes and other products, there was probably only room for a few luxury fashion brands, which would always float on top of the rest.
Open session
At a final open session, Bettane continued to develop some of the same themes. He agreed with Schildknecht on the need to discover and encourage new talent. While it is important to taste great wines, to know and understand them, and put the rest in perspective, they are "boring to write about in some ways." He also agreed, however, that there are "too many idealistic young growers for the market," and that it is "very difficult for new talent."
Schildknecht argued that it was important not to isolate the press as the only ones who influenced the market, pointing out that large outside investors were often the only ones with the resources to sustain the top estates. Scholes emphasized that in the expanding Russian market, critics are of negligible influence by comparison with the importers and the producers themselves. Radford added that suppliers are also hugely influential in the UK, where the six largest supermarkets now control some 80 percent of retail sales. De la Serna cautioned against equating "the market" with any one country, and said that the "Anglo-Saxon" world generally exaggerated the importance of Robert Parker. Green stressed that there was not one US market either, but rather many different markets, though he regretted that the media there has not yet found a satisfactory way to discuss "alternative" wines in terms other than the alcohol, fruit, and tannin that are so suitable for so many wines. After a brave and successful attempt to pull some of the many strands together, Robinson said she had been impressed by the directness of the discussions, but felt that the wine writers had "grilled" the winemakers more than vice versa, and wished that there had been more detailed discussion of techniques such as micro-oxygenation and reverse osmosis, as well as of vine varieties.
She also thought that involving merchants and shippers would add a different and worthwhile perspective. If, as the organizers hope, Wine Creators is held every other year from now on, there will be opportunity to improve on an interesting concept and this generally successful opening session.