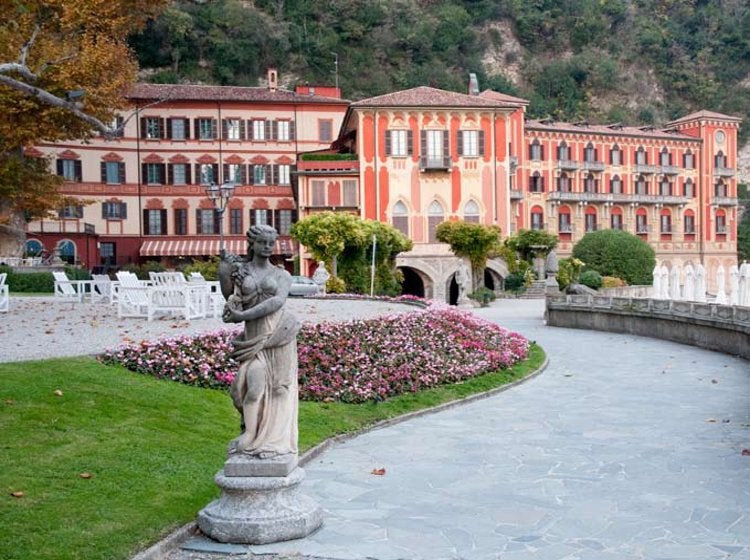 by Neil Beckett
All too often, like the grand cru Burgundies of inglorious négociants in unpropitious times, the muchheralded international conferences of recent years have delivered much less than they initially promised.
On paper, the speakers and the themes look irresistible. But the celebrities in the wine world, like those in any other world, tend to be busy people, and whether through arrogance, ignorance, or the sheer shortage of time, often fail to rise to their lofty subjects. And the more ambitious the conference, the greater the risk of disappointment.
The first World Wine Symposium, dubbed "The Davos of Wine" and masterminded by François Mauss, founder-president of the Grand Jury Européen, could hardly have been more ambitious. But happily, this carefully conceived and meticulously organized event, held at Villa d'Este, the beautiful luxury hotel on the shores of Lake Como, from October 30th to November 2nd, more than met the expectations of the more than 100 representatives.
The background of the global recession was not, of course, in the least conducive to a gathering of this kind; and indeed many of Mauss's advisers had pleaded with him to postpone the event till next year. But with his characteristic combination of determination, persuasion, and vision, he persisted with his grand project. And with the help of his wife Marité, his small GJE team, the far larger staff at Villa d'Este, and his broad network of friends and supporters, he managed to pull it off in some style.
François Mauss, founder of the Grand Jury Européen and the World Wine Symposium, introducing Michel Bettane as the opening speaker
A new code of conduct
Attended by a broad cross-section of distinguished producers, traders, media representatives, legislators, politicians, and passionate amateurs, the symposium afforded exactly the kind of dialogue for which Michel Bettane, France's most respected wine writer, appealed in his keynote address. The was the first of the 12 formal seminars staged over the weekend, all of which were greatly facilitated by the excellent and fluent simultaneous translation into English, French, and Italian.
Bettane is one of the wine world's great thinkers, and he had clearly thought long and hard about the subject of his presentation: "Wine Critics and Ethics." Alluding to the debate on this subject, which reached a new pitch of intensity over the summer (see WFW 25, pp.18-19 and pp.26-27 below), he gave a magisterial summary of how wine criticism has evolved over the past 300 years. From the 17th through to the 20th century, criticism was part of the traditional role performed by producers and traders. On the basis of their expert knowledge, which is "acquired rather than innate," they performed their role responsibly on the whole, to which the 1855 Médoc and other classifications stand testimony. Bettane identified the 1982 and 1983 Bordeaux vintages as the watershed, where professionals in the trade started to lose credibility as communicators. Having generally underestimated the 1982 vintage, they went on to compound their mistake by presenting the 1983 vintage as superior, which was "totally wrong."
The credibility gap was filled by independent professional critics who first came to prominence around this time, and among them two distinct traditions emerged in the "Anglo- Saxon" world. One was English, which was often still linked to auction houses or merchants, and which often therefore still had some commercial interests. The other was American, which was more consumer-driven, more conscious of the relationship between price and quality, and less afraid to criticize.
Many of these critics became suspect in turn, however, as they became more susceptible to strong commercial pressures such as the need for advertising revenue. Accordingly, a third group emerged, that of consumers themselves, for whom the Internet has provided a global platform. Bettane insisted that thus far, "consumer-led criticism has not served the consumer well," citing the deeply entrenched ideological positions many such critics take, and "the vehemence with which many of them insult each other."
"What's missing now is a code of conduct," Bettane declared. The challenge is to devise such a code while maintaining the current depth of knowledge and breadth of opinion. In a democratic, pluralist society, it is necessary for everybody to have a say: producers know their products, professional critics have a right to criticize, and consumers have a right to their view as well.
Bettane identified three essential elements for any such code, which he described as "obvious but important to restate." The first is good product knowledge, which should not be too narrowly based on viticulture, winemaking, or marketing, but nor should it be too loosely based on "gastronomic" appreciation. "It must be a learning process," and for this reason Bettane pledged his support for educational institutions and for a structured approach to tasting.
The second crucial component of a code of conduct is an awareness of the importance of language. Despite all of our cultural and individual differences, we are still able to communicate in a meaningful and worthwhile way through the careful use of words. These should be used as clearly and precisely as possible, and should mean the same for everybody, even if everybody's taste varies. Words also need to be used sensitively, without exaggerating either defects, which can heighten resistance to the essential message, or qualities.
The third and final requirement is for rigorous moral self-examination on the part of critics of all kinds. There is always the risk that auctioneers or merchants will not criticize products that they want to sell, and that professional critics will not criticize producers from whom they derive advertising revenue, or readers from whom they derive subscription revenue. Even when critics are not so swayed (and Bettane insisted that in all his years as editorial director of Revue du Vin de France "not one sentence had been influenced by advertising"), there will always be those who suspect that they are.
But Bettane identified as far more important the need for all critics "to wage war against one's own selfesteem, to recognize one's own mistakes, to resist taking pride in demagogic power, to resist the temptation to be popular." They must also be alert to the dangers of ideology, and to the risk of placing more confidence in established, successful producers than in those who are still relatively small or unknown.
Adopting grape hybrids as an image for the kind of crossing he hoped to see, Bettane concluded with a plea for producers, professional critics, and consumers to contribute positively from their own perspective, to exchange views more frequently but more respectfully as well.
Responding in the same spirit, several members of the audience made their own comments or posed questions. American wine consultant and writer Gil Lempert-Schwarz asked whether there should not be a formal qualification for critics? To which Bettane replied that while there is indeed a role for educational and professional qualifications, criticism per se should be free, every individual having a right to an opinion, even if that right often needed to be exercised more responsibly.
Representatives of the three strands of wine criticism that could be woven more closely together: (from left) professional critics Michel Bettane and Steven Spurrier;
Bipin Desai made three objections to wine criticism as it is normally practiced today: that it has become almost completely divorced from food; that 100-point scores offer a "false precision" ("every measurement you make has room for error," protested the professor of nuclear physics) and are therefore "merely an investment tool"; and that critics should retaste blind wines that they first rated ten or 15 years earlier, to see whether their original assessment was correct.
Bettane agreed that it is important to know about the relationship between food and wine, but felt that there was also a practical need to be able to assess wine independently. He also accepted the fallibility of numerical scores, and said it was essential to understand what they meant: "They are not an absolute; you can't score in an absolute way; they are more a preference index.
The public shouldn't give them any absolute value either; they should see that it's more a question of ranking a particular quality, style, or vintage." Bettane shared the belief that it is always good for critics to retaste wines when they are older, but said there is also a need to persuade people to let wines reach full maturity.
The final question of the session came from consultant and winemaker Stéphane Derenoncourt, who said that the greatest danger surrounding scores was the adverse effect on producers who do less well. Bettane replied that such producers should not respond by changing their style, and that there is a far wider range of taste preferences than many producers realize. On the critics' side, he insisted that this was one of the many reasons why they should talk less about the absolute quality of a wine than about its style.
The cultural value of wine
On the second day, one presentation again had greater general significance than the rest. Professor Jean-Robert Pitte, a former president of the Sorbonne in Paris, took as his grand title "Wine: Beverage of European Identity and its Rapprochement with the World's Different Cultures." His passionate and wide-ranging talk began with the affirmation that "Wine is above all a cultural value."
Highlighting the growing threat to wine from the neo-prohibitionist spirit now sweeping through Northern Europe and North America, he suggested that the wine world needed to be far more vocal than it had been so far, at the highest governmental levels, and that it needed to promote wine not only for its joie de vivre, but for its cultural and even philosophical value. For young people, he suggested, wine afforded "an introduction to the complex realities beyond us, realities often too complex to be fully understood." "At the heart of the human condition," he proposed, "is a taste for life, a sense of joie de vivre, which we need to introduce to young people through wine, and we should stop giving the floor to those who give sermons against it." It is above all, he suggested, "the power to create happiness" that makes wine valuable as a cultural product.
non-professional wine writers Jean-Robert Pitte and Jacques Berthomeau; and wine producers Michael Prince Salm and Angelo Gaja
Emphasizing the length of this cultural heritage, he went back 5,000 years and more to the first beverages made from Vitis vinifera and the spread of the vine, stressing the way in which diverse cultures throughout the world linked wine with religion. The Judeo- Christian world has always assigned it a special significance, reflected in the 400 or so references to wine in the Bible, including Noah's planting of the first vine, Jesus's first miracle at Cana, and the Last Supper (perpetuated in the sacrament of the Eucharist). Pitte noted that even in the Koran, wine was initially greeted as a divine revelation, and only gradually became subject to prohibition. While the Judeo-Christian tradition made moderation a matter of individual responsibility, in Islam it was imposed universally. While this was one reason why wine did not flow back down the Silk Road to Asia more frequently than it did, it is now being adopted enthusiastically there. For Pitte this was proof that there is a positive side to globalization, as wine spreads ever more widely round the world.
A rich and varied diet
While the above two presentations were the most universal, the other ten shed interesting light on more particular subjects. Philippe Duval, president of the Société des Alcools du Québec / Alcohol Monopoly of Quebec, explained the innovative ways it is educating and communicating with its many and varied customers. Willy Klinger, director of the Austrian Wine Marketing Board, gave an amusing account of the way in which a small wine-producing country has become a major player in wine tourism, thanks to governmental and popular support. Michael Prince Salm, the former president of the VDP (Prädikat Wine Estates), described the rationale for the new classification of its members' wines, now coming into force after a process stretching back 20 years.
Angelo Gaja, one of Italy's best-known wine ambassadors and most soughtafter producers, spoke of his passion for Piedmont and Nebbiolo-a bravura performance memorable not least for its characterization of Cabernet Sauvignon as John Wayne (projected Citizen Kane-like onto the wall behind him), and of Nebbiolo as Marcello Mastroianni. Ivanhoé Johnston, of the famous Bordeaux négociant, gave an illuminating account of the fluctuating fortunes of his family firm over 300 years, stressing that wildly variable prices are actually nothing new, the 1814 vintage having fetched three times the price of the 1813 vintage.
Among the distinguished producers who attended and who showed their wines were Eric Rousseau and Hubert de Boüard de Laforest of Château Angélus
The next day, Jacques Berthomeau, long employed by the French Ministry of Agriculture, clarified the complex role of governmental agencies in the organization of wine. Olivier Humbrecht MW of Domaine Zind- Humbrecht in Alsace rose to the challenge of answering his own deceptively simple question, "What is biodynamics?" Consultant Stéphane Derenoncourt predicted the role of new technologies in the vineyard and winery. Christian Roger, a former banker, and now an adviser to wine investment funds, tackled the controversial relationship between enjoyment and investment in wine.
And Yair Haidu gave an exciting insight into his vision of a new wine platform on the Internet; having developed the infrastructure for more than two years, he hopes to launch it soon, and we hear more about it when he does.
In addition to these formal seminars, the conference also included fascinating shorter presentations on subjects as varied as human taste and our place in the universe. Discussions were often carried over to the impressive themed lunches, dinners, and tastings (Austria and Croatia among them). All in all, the conference was a remarkable success, and the news with which François Mauss brought it to a close-that it will be an annual event held at Villa d'Este for at least the next five years- should be warmly welcomed.