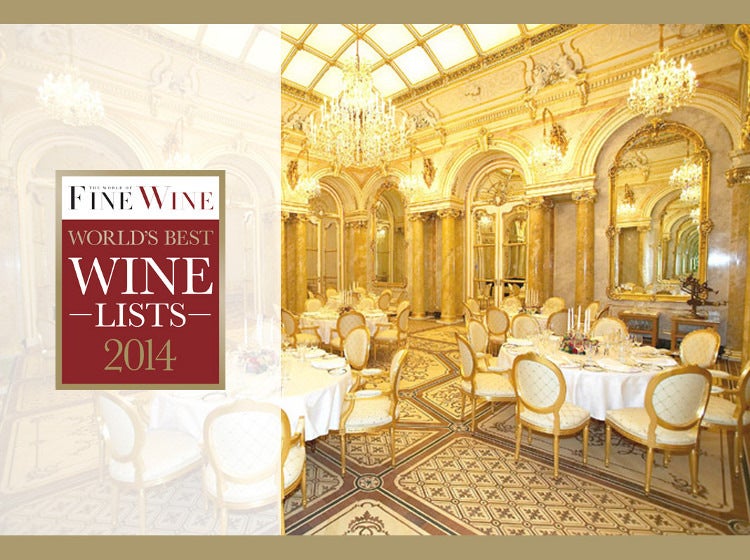 The World of Fine Wine has announced the winners of its inaugural World's Best Wine Lists awards. Some 750 restaurants from around the world won a one-, two-, or three-star award. Only 200 wine lists have made it into the top three-star category. A judging panel comprising leading figures such as Gerard Basset MW MS, Ch'ng Poh Tiong, Elin McCoy, Andrew Jefford, Francis Percival, and Tom Stevenson assessed more than 4,000 wine lists before coming up with the final shortlist for the different categories and overall winners. The judges also recognized with a special Jury Prize several lists that show distinctive character and flair or are particularly strong in a specific wine style.
The world's best overall wine list award goes to Vienna hotel Palais Coburg Residenz. The Austrian venue also takes the prize for Best Wine List in Europe. New York restaurant Hearth is named Best Wine List in North America, while Restaurant Petrus at Hong Kong's Shangri-La hotel receives the equivalent award for Asia. Brazil's Taste-Vin, Australia's Royal Mail Hotel and South Africa's Rust en Vrede earn awards for having the best wine list in their respective regions.
New York leads the way as a fine-wine destination with 36 restaurants receiving three-star status for their lists. London has the second-highest tally with 17, ahead of cities such as San Francisco, Chicago, Melbourne, and Sydney.
The three-star winners' list includes Gordon Ramsay's eponymous London restaurant. The chef said: "It's just fantastic news that the wine list at Restaurant Gordon Ramsay has been recognized in this way. The entire team there work tirelessly to deliver the ultimate experience in wine, food, and service for all to enjoy. I'm very proud of all of them."
New York's Eleven Madison Park also receives a three-star rating. Head chef Daniel Humm said: "I'm so proud of Dustin and his team for being recognized in such a prestigious way. They've worked so incredibly hard and poured a lot of time and attention into every detail of the wine program here. It is an incredibly appreciated and well-deserved honor."
The World of Fine Wine editor Neil Beckett chaired the judging process for the awards. He said: "Our awards have been received extremely well by all the restaurants and restaurateurs. We hope that these will provide a refreshing new approach to the industry and will be seen as the industry benchmark for many years to come."
See the full index of winning restaurants here.