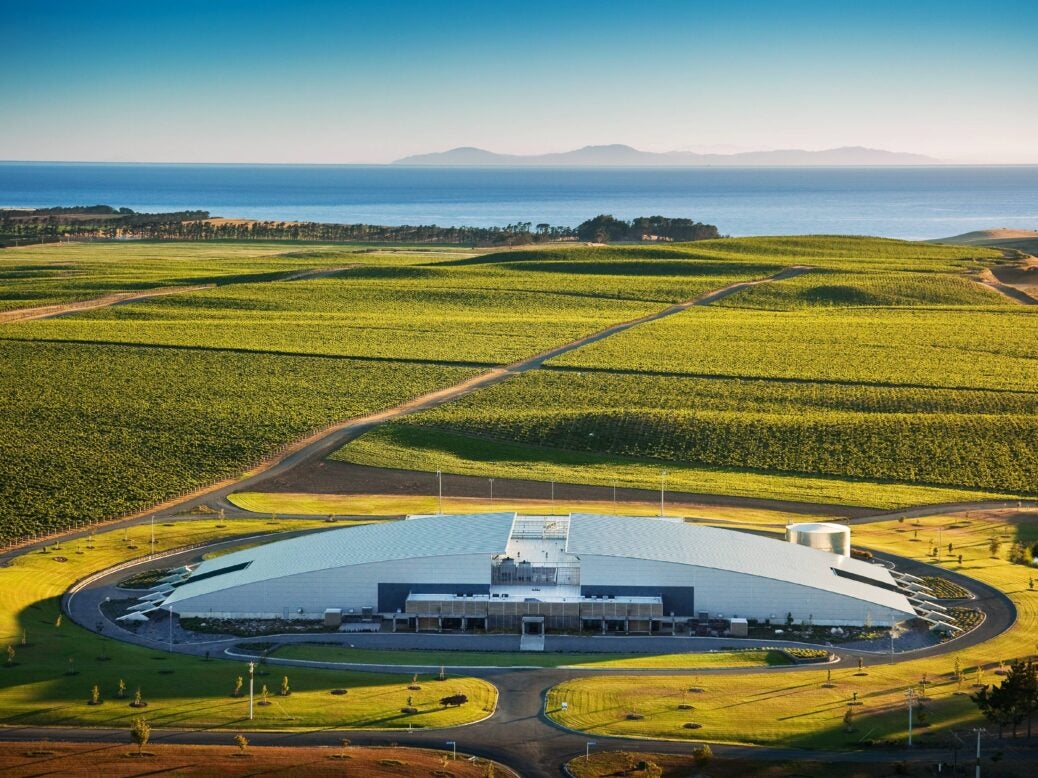 Established in 2008, Yealands was always destined to be a story of thinking differently. In 2002, when founder Peter Yealands began developing land in the Awatere Valley, Marlborough, at the northeastern tip of New Zealand's South Island, many thought viticulture would be impossible given it was home to some of the toughest conditions in the region including steep slopes, strong winds, cool nights, and low rainfall. Located on the cliff's edge overlooking the Cook Strait, Seaview Vineyard on Yealands Estate is now one of the most sustainable and striking vineyards in the world.
The winery itself is purpose-built with a unique domed roof designed to blend into the rugged hills of the surrounding landscape, and was the first winery in the world to be certified carboNZero™ since inception. The entire northern side of the winery roof is home to the largest solar panel array in New Zealand and provides around 30 percent of the power required to keep everything running. What's more, if you visit the winery in an electric vehicle, the handy EV charging station, powered by the sun, will charge your vehicle while you enjoy a complimentary tasting of the many award-winning wines Yealands have on offer in their cozy cellar door.
Visitors to Seaview are also invited to explore the vineyard at their own pace using the award-winning White Road Tour app*. Winding through the vineyard, visitors can experience the many extraordinary sustainability initiatives that have been introduced, including miniature Babydoll sheep. Too small to reach the grapes, these woolly workers can stay on the vineyard year-round, reducing the need to mow with tractors. Lookout Point, with its spectacular views across the Cook Straight, is a true highlight of the tour, where, on a clear day, it's possible to see all the way across the water to New Zealand's capital city Wellington, at the bottom of the North Island, and to the lighthouse at Cape Campbell. The tour also includes a number of "over-friendly" chickens running out to greet you, many of which are ex-battery hens that have been rescued and set free on the vineyard to help keep the bugs at bay. Providing a soundtrack to the journey are notes of classical music that drift across the vines, played through solar-powered speakers, as a way to improve vine health.
Yealands uses wind turbines to produce renewable energy, and is the only vineyard in New Zealand to bale vine prunings, which are burned in specially built burners to heat water for the winery. You won't find a winery and vineyard like Yealands Estate anywhere else in the world. It truly is every bit extraordinary.
Contact Yealands Family Wines
534 Seaview Road, Seddon, Marlborough
cellardoor@yealands.co.nz
+64 3 575 7618 ext. 7300
www.yealands.co.nz
Book Yealands Family Wines