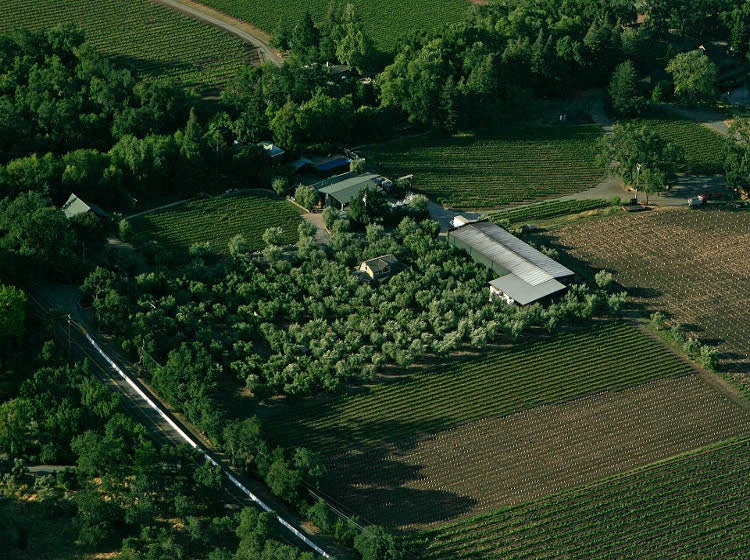 1. Turley White Zinfandel, Napa Valley
An unusually lean, crisp, floral and refreshing Zinfandel, this wine is extremely versatile. The red grapes were picked early and are fermented completely dry. She suggests pairing it with "subtle crudo preparations like fluke or hamachi" or, because of the acidic nature of the wine, with rich charcuterie.
2. Turley "Kirschenmann Vineyard" Zinfandel, Lodi
"Planted in 1915 on its own roots east of the Mokelumne River in Lodi, this wine is truly a vin de terroir," states Turley. Grown in limestone soils the end product is light and has a notably smooth texture, as well as great acidity and perfumed fruit flavours. She suggests pairing with a well-seasoned steak tartare or a slightly heavier fish like ahi tuna.
3. Turley "Salvador Vineyard" Zinfandel, Contra Costa County
The sandy soils of Contra Costa County make wines from the Salvador Vineyard particularly elegant and ripe. The spicy-sweet elements in the wine would pair well with a traditional Mexican mole dish, which has a sauce made from chili peppers and chocolate.
4. Turley "Cobb Vineyard" Zinfandel, Amador County
"Planted at 1500 feet on the volcanic, granitic slope of the Sierra Foothills, the Cobb Vineyard Zinfandel is a quintessential Amador County wine: brambly, structured, and savory. Though fruits run the full gamut from red to blue to black, the wine favors secondary and tertiary flavors like graphite, game and bacon fat" says Turley. She recommends drinking with barbecued ribs or devils on horseback as they would complement the rich fruit and smoky elements in the wine.
5. Turley Rattlesnake Ridge Zinfandel, Howell Mountain
Located at the summit of Howell Mountain at about 2600 feet, these vines see more extreme weather than anywhere else in Napa: strong winds, more sun exposure and occasionally snow. The wines from this vineyard are bold with lots of spice notes, textured tannins and a slightly gamey flavour. Mountain Zinfandel like this are best with well-seasoned grilled lamb or steak au poivre.
6. Turley "Hayne Vineyard" Zinfandel, Napa Valley
Planted in 1902 and 1903 on the west side of St. Helena, these head-trained dry-farmed vines produce a truly classic Napa Valley Zinfandel. The wines are elegant, with blue fruits, warm spices and great structure. For Turley "wine like this calls for an feast of equal calibre, such as a crown roast. The well-structured acidity would cut through the richness of the pork, while the savory spices in the wine would complement the abundant flavors in the dish."