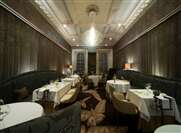 Top chef Paul Kitching and his partner Katie O'Brien came to Edinburgh in 2009, fresh from a successful stint at the much-loved Manchester restaurant Juniper.
The restaurant with rooms they set up in a Georgian townhouse—21212—has since become a firm favorite in the Scottish capital, garlanded with awards and accolades, and a feature in any compilation of the UK's best restaurants.
The cooking is loosely speaking contemporary French, but it draws on many influences, featuring, at the time of judging, fun, intricate dishes such as jumbo scallops, smoked saffron haddock, brown crab and caviar cream, Beaufort risotto, Scottish roots and leek puree, and olive oil.
The judges at the World's Best Wine Lists 2015 were equally impressed by a wine program that offers "a thorough, global selection of different styles, vintages, and producers," where the best of the New World is treated with the same respect as classic Europe.
Particular highlights include an impressive, rotating by-the-glass choice, which is especially strong in sweet and fortified wines such as Château Pierre-Bise Côteau du Layon Clos de la Soucherie and 1963 Croft Vintage Port.