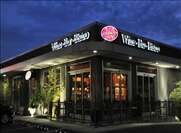 Nashville's 360 Bistro is one of those all too rare restaurants that want its customers to actually drink and enjoy the wines on its list, rather than just admire them.
See, for example, its creative approach to wine by the glass, where, at the time of writing, customers can choose between six themed flights of three wines—from a sparkling flight comprising a 3-oz pour of each of La Marca Prosecco, Domaine Chandon Blanc de Noirs California, and Domaine Carneros by Taittinger "Le Rêve" California, to a set of "Alternative Whites" comprising Don Olegario Albariño Rías Baixas, Château de Valmer Vouvray, and Feudo Maccari Grillo.
There is a further set of "Wines of Distinction" by the glass, and customers are invited to ask if they want a single glass off the full-bottle list for a quarter of the bottle price. A diverse list, then, that has been impressively, accessibly presented.