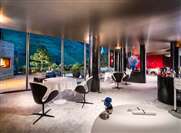 The 7132 Hotel is located at the entrance to the picturesque village of Vals, famed for its thermal springs, in Switzerland's Grisons Alps, a place of idyllic scenery and an ancient mountain setting.
The hotel offers a thoroughly distinctive atmosphere.
Guests can escape the mediocrity of the mainstream to be treated to the last true luxuries of our hectic modern era: leisure, tranquility and relaxation.
This is a place to unwind, indulge yourself and savor the moment in an inspiring and stylish setting.
The hotel consists of two buildings: the 5-star 7132 Hotel Deluxe, and the adjacent 4-star House of Architects by 7132.
Featuring a unique collection of rooms designed by renowned architects Tadao Ando, PeterZumthor, Kengo Kuma and Thom Mayne, The 7132 hotel has 3 different restaurants, one of which holds two Michelin Stars.
The wine cellar is divided into two areas; one for classic European wines and one for our big .