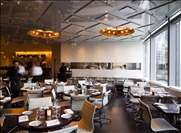 Part of Marlon Abela's MARC group of international fine-dining restaurants in London and the East Coast of the United States, New York City's A Voce is all about simplicity and elegance, both in its choice of modern regional Italian cuisine, and the stylish décor of its outlets on Madison Avenue and Columbus Circle.
There is a superb selection of the best of modern Italy, with examples from up and down the boot, from Lieben Aich, Manincor, Alto-Adige 2010 to Etna Bianco, Delle Vigne Niche, Terre Nere 2011, with the big red names of Piedmont and Tuscany represented with several vintages from the likes of Giuseppe Mascarello and Giacomo Conterno.
The fine Italian list is complemented by a wide-ranging selection of classic French names, including eight vintages of Petrus going back to 1928, and an equally judicious choice of top Californians.
A Voce Columbus is now permanently closed.