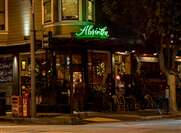 A long-time favorite in San Francisco's performing arts district, Bill Russell-Shapiro's Absinthe Brasserie & Bar was originally inspired by the cuisine of southern France and northern Italy.
The menu retains its mix of French bistro classics (coq au vin and French onion soup gratinée) and Mediterranean-inspired dishes such as Spanish octopus, artichoke puree, fried marble potatoes, snap peas and carrots; and sheep's milk ricotta ravioli, braised lamb neck and tongue, morels, spring onions, asparagus, and black garlic jus. It's accessible, informal food, but the wine list takes the place to another level.
The Burgundy section is remarkable in its breadth and length, a genuine who's who of top producers large and small that is, as one judge at the World's Best Wine Lists 2015 put it, "close to wine porn!" Grower Champagne, northern Italy, and, naturally enough given its location, California is also well represented on a cosmopolitan list that's been put together with great flair.