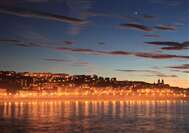 Though it has been open for almost 40 years now, Pedro Subijana's Akelarre in San Sebastian is still at the forefront of innovative Basque cuisine. Subijana's elaborate, wittily presented dishes are high on technique, but those skills are always at the service of the locally sourced ingredients in dishes such as red scorpionfish "umami," rice with snails and periwinkles in tomato and basil film; or gin and tonic on a plate.
The flair and creativity of the kitchen finds its match in a wine list that offers a comprehensive array of Spanish and international bottles. The Spanish list is wide and deep, taking care to present as many of the country's denominations as possible, including arranging Rioja's modern and traditional producers by sub-region. Vintages are well chosen, rather than exhaustively complete; and prices are consistently fair (€47 for Viña Tondonia Rioja Reserva 2002, for example).
Much the same can be said of the selection of classic French wines headed by Bordeaux and Burgundy, while the smattering of international bottles is small but smart: from Felton Road Pinot Noir Bannockburn Vineyards 2010, to Giuseppe Mascarello Barolo Monprivato 1999.