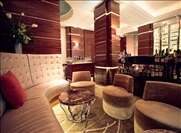 One of Britain's best chefs, Alyn Williams aims for what he calls "light, progressive," cooking at his Michelin-starred kitchen at The Westbury hotel in Mayfair. Vegetables therefore play an important role for Williams, both in meat dishes such as wild English rabbit, black radish, celery, and truffle, and in the dedicated vegetarian menus he offers alongside the main à la carte.
The "progressive" lightness of touch so evident in the kitchen is also apparent on the wine list, where elegance is the linking theme in a cellar that blends fine classical French choices with plenty of engaging left-field action. Burgundy, the archetype of vinous elegance, naturally has a central role to play, and the selection is nicely balanced between the wallet-lightening stars (JF Mugnier Le Musigny Grand Cru 2000; £1,400) and the region's more affordable end (Domaine Arlaud 2011 Bourgogne "Roncevie" 2011; £55).
There's a similar balance at play in the extensive Bordeaux section, but the judges at the World's Best Wine Lists awards were equally impressed by the way less celebrated regions are woven into the list in the shape of bottles such as the Catalan Joan d'Anguera Altaroses Garnatxa, Montsant 2011, or Croatia's Matoševic Malvasia, Istria 2012.