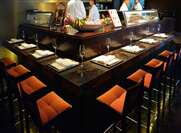 Hiro Sone and Lissa Doumani, the people behind Napa's Terra restaurant, have brought their trademark modern take on New American cuisine to San Francisco at Ame.
Drawing on a cosmopolitan array of influences, but with many of the ingredients sourced from local suppliers, the pair conjures up a creative range of dishes that includes such raw delights as ceviche of amberjack with avocado, compressed apples, cilantro, and yamagobo salsa, or tataki of Hokkaido scallops with sea urchin, paddlefish caviar, and ponzu.
The wine list is similarly creative and modern in style, kicking off with a fine by-the-glass selection that roams from Rolet Vin Jaune and Broadbent Sercial Madeira to Looco Indica Carignan from Mendocino County.
Among the 500 bins available by the bottle, the list is full of highlights, with both the local Californian scene and the classics and upcoming names of Europe well represented, and with great selections of, among others, Champagne Burgundy and Austrian and German Riesling that the judges at the World's Best Wine Lists praised for their ability to match the cuisine.