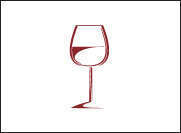 American Airlines
American Airlines' wine program has carefully selected classical fine wines from regions of Europe with dynamic flavor profiles, specifically chosen to complement in-flight dining options.
The list includes wines from the world's major wine-growing regions, catering for those who are unfamiliar with the classic wine varieties, as well as unique wines from untraditional regions to those who enjoy learning about and tasting new wines.
American Airlines maintains 15 different wine lists, specially selected for various routes. The airline changes its wine list regularly and produces an online pamphlet describing in detail each route's selections.
Additionally, to enhance the wine-tasting experience, American provides a larger wine glass in the First Class cabins on international Boeing 777 and transcontinental Boeing 767-200 aircraft. The glasses are stemmed tulip-shaped globes, which will allow customers to more easily swirl the wine and enjoy its aromas.