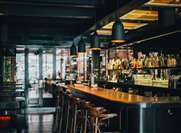 Ancestral restaurant calls upon Chinese influences for its modern cuisine, using a fusion of innovative and traditional techniques which pay homage to the country's heritage and customs. The kitchen team applies the culinary ideas behind 1930s Shanghai to the local New Zealand produce.
Ancestral showcases a passion for delicious drinks, telling a story with technically crafted spirits, and fine wine. Stephen Wong MW is the curator behind the tight-knit list, and has continued the restaurant ethos of combining tradition with the new and the old. The main focus of the wine is on organic or biodynamic wines, paying attention to those that have little or no additions during the winemaking process, and will favor estate and domain wines, growers and hand-tended wines.
In its debut entry in the World's Best Wine Lists in 2017, Ancestral claimed a three-star award for its noteworthy wine list. Despite referencing an international range that features a selection from most countries and many wine producers, the list is perhaps missing dry wine from Greece and Hungary; however it is nonetheless an excellent wine list with a remarkable selection of mature vintages.