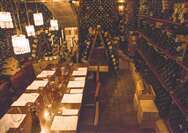 Antica Bottega del Vino is among the oldest and most prestigious historic Italian dining establishments, tracing its long history and roots to the sixteenth century.
The restaurant is an illustrious survivor of the hundred osterias that were once the haunt of famous artists and writers in Verona.
In 2011 it was purchased by Le Famiglie dell'Amarone d'Arte and Antica Rinomata Riseria Ferron, two historic producers, to continue the traditions of this wine institution.
It continues to enjoy its cult status as a mecca for those attending the annual Vinitaly exhibition, as well as being a highly recommended spot for Verona's international visitors.
The cuisine exudes Venetian tradition, offering a fantastic selection of cicchetti dishes, such as the famous risotto and braised beef cheek with Amarone and pastissada de caval.
Nothing characterizes Antica Bottega del Vino more than its cellar, located in a building dating back to the 3rd century BC, now boasting a selection of the most important wines in the world.
Its bottles number more than 18,000, representing a total of 4,500 labels worldwide.
Great attention is given to Italian and French producers, with a special focus on biodynamic and organic wines.