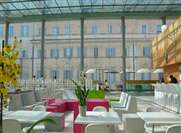 Chef Antonello Colonna's stylish modern country retreat, a resort and spa near the town of Labico some 40km (25 miles) outside Rome, offers a menu that is directly inspired by its surroundings. This is a place where the local ingredients are the stars, presented with a flourish that doesn't disguise what Antonello describes as the cuisine's "peasant" roots.
Accompanying artfully simple dishes such as guinea fowl, foie-gras, and beetroot; and stuffed pasta with boiled chicken, parsley, and potatoes, are choices from a wine list packed with stars from the length and breadth of Italy, seasoned with clever picks from around the vinous world.
It's a list that very much impressed the judges at the World's Best Wine Lists 2015. "It has a really nice layout and contents page—an impeccable layout, a gorgeous list," the judges began. "There is an affordable by-glass selection, a really interesting focus on the wines of the (local) Lazio region, an excellent range of pricing, great breadth and depth throughout with Champagne particularly well represented.
"It has the stamp of a painstakingly chosen list," the judges continued, "with depth in both classic and emerging and unknown producers and an excellent range of older vintages."