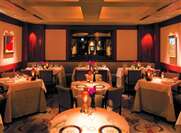 Restaurant Apicius' cellar boasts a colossal collection of some 5,000 labels and 30,000 bottles.
The unfailingly diligent sommelier team are at the guests' disposal for bespoke tasting and pairing advice.
Apicius marked its impressive, milestone 35th anniversary in April 2018.
Named for Markus Gavius Apicius, a prominent figure in European food history famous for the discovery of the delicacy foie gras, the restaurant serves classic, traditional and authentic French cuisine.