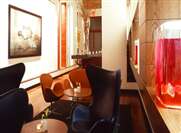 The precision and deceptive simplicity of modern Scandinavian cuisine are the hallmarks of executive chef Emma Bengstsson's two Michelin-starred menu at midtown Manhattan's Aquavit.
Intelligent pairings, impeccably presented, such as scallop and radish, Arctic char and spring peas, suckling pig and radicchio or Matjes herring and quail egg are among the highlights on the tasting menu—a style of cuisine that has made Aquavit one of the stars of New York City's fine dining scene for the best part of three decades.
While its name may be a reference to the famous Scandinavian spirit (homemade examples of which take up the first page of the drinks list), wine is a key part of the charm of Aquavit. The wine program is wide-ranging, eclectic without being preciously obscure, mixes domestic classics with the best of Europe, and always has an eye on pairing with the elegant cuisine. From Michigan (Shady Lane Cellars) and Finger Lakes (Dr Konstantin Frank) Riesling, to Israeli and Greek wines, Sake and a well-chosen selection of Burgundy, this is a beautifully curated list.