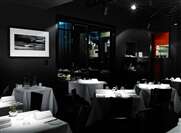 Attica has long been considered one of the great Australian restaurants, and chef–owner Ben Shewry continues to evolve his cuisine to reflect the past and future of the country.
The extended tasting menu offers delicious, ingredient-driven courses such as saltwater crocodile ribs, vegemite scrolls, salt-cured kangaroo, pearl oyster meat, grilled Marron with desert lime, and Lamington with black ants.
The enigmatic dishes are a reflection of Shewry's fresh cooking style, focusing on raw, native materials fused with the classic—and sometimes kitschy—dining specialties of Australia.
The wine list puts Victoria in the spotlight, championing both the pioneers of the region, as well as its up-and-comers.
The standouts from the rest of Australia and New Zealand flesh out the Oceania side of the list, with a selection of classic Old World counterparts that prove Australia deserves to be mentioned in the same breath.
This list is for everyone, balancing traditionally made wines with more experimental styles, all showcasing high-quality, site-expressive fruit.
A large selection of by-the-glass wines, and most of the list available as half bottles, allows for engagement with many different styles throughout a meal.
Attica lays claim to a new version of fine dining—one that offers warmth, finds humor, and pushes boundaries.