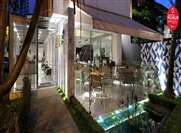 A partnership between chef Jefferson Rueda and restaurateur Marcelo Fernandes, São Paolo restaurant Attimo has quickly become one of São Paolo's most celebrated, thanks in no small part to a creative approach in the kitchen that mixes local ingredients with Italian culinary ideas.
That translates to a menu that includes dishes such as "rustic" chicken and okra ravioli or baked purple sweet potato gnocchi with pig's ear, European spinach, and 25-year-old aged balsamic vinegar.
To accompany Rueda's menu is an inspired wine list that builds a fine and diverse range of international selections around a core of top Italians, with an impeccable choice of producers throughout.
Among the highlights are the great and the good of Italy such as Biondi-Santi, Gaja, Giuseppe Mascarello, Sassicaia, Tignanello, Falesco, and Tenuta delle Terre Nerre; a fine selection of top Argentines and Chileans (Cheval des Andes, Catena, Luigi Bosca; De Martino, Villard, Montes); and a sprinkling of top Spaniards, Portuguese, and French (Lopez Heredia, Pazo Señorans, Quinta do Vale Meão, Château Pichon-Longueville).