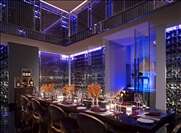 As the name suggests, Macau's Aux Beaux Arts is decidedly French in inspiration, with a menu composed of classical Parisian brasserie dishes. The wine list, too, has plenty of Gallic flair, with a spread of well-chosen bottles from top producers headed by Bordeaux, Burgundy, Champagne, and the Rhône.
If the French (not to mention the Spanish, Italian, American, and Australian) part of the list is impressive, the judges at the World's Best Wine Lists awards were even more taken by the selection of Portuguese wine, an extensive line-up that reflects Macau's historical ties to the country.
The stars of the Portuguese collection are the red and white flights from the legendary Buçacao—Aux Beaux Arts being the only restaurant in the world outside the central Portuguese producer's own hotel to offer them in such depth. But the whole Portuguese array is superb, from the stars of the Douro such as Niepoort, Wine & Soul, and Quinta do Vale Meão, to Bairrada's Luis Pato, the Dão's Alvaro Castro, Vinho Verde's Soalheiro, and the Alentejo's Cortes de Cima and Esporão, plus many fine old Vintage Ports.