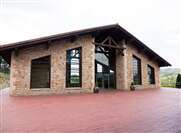 The wine list at Azurmendi is just as impressive as the food at the 3 Michelin star restaurant. Boasting an extensive and eclectic choice of wines from around the globe with consistent presentation and elusive choices, the list is internationally-focused with varietal thinking.The journey will take guests from the Basque Country in Spain to Greece, Chile and France.
Chef Atxa has created the wine list based on the diverse experiences he's encountered whilst travelling and exploring wine from all over the world.
From crispy Sauvignon Blanc, to creamy Chardonnay, to full bodied Shiraz and elegant Pinot Noir grape varieties, there is a heady mix of aromas for guests to enjoy the wine and the culinary talent of Chef Eneko Atxa.
Resident sommelier, Fabien Ettiene is on hand to assist guests in making the perfect choice to compliment their meal.