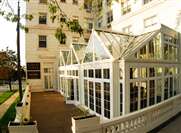 A lot of love and care has gone into the creative wine list at Milwaukee's Bacchus. You can see that from the very first page, where the by-the-glass program mixes it up with wines such as Bonny Doon's Californian white Rhône Ranger Cigare Volant Blanc, Dopff & Irion Alsace Gewurztraminer, and Tobin James "Made in the Shade" Merlot Paso Robles.
The Sommelier's Selection of house favorites is no less captivating, ranging from Jean Lallement's superb grower Champagne, to transparent Riesling from Germany's Nahe region (Dönnhoff Oberhauser Brucke Spätlese) and top Argentine producer Achaval Ferrer's refined "Quimera" red blend.
On a list that the judges at the World's Best Wine Lists 2015 described as "excellent all round," other highlights include long and detailed focuses on the wines of Oregon and Spain; a clutch of winemaker or owner-signed bottles; and plenty of half-bottle and large format options. The result: all the options you'd need to match the stylish modern American food on the menu.