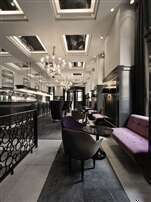 With the renovation came the lush Balthazar champagne bar, Denmark's first and a top champagne bar in Copenhagen.
Despite being a part of the renowned 5 star hotel, Balthazar has held its own popularity amongst the elite neighbourhood.
The exclusive Champagne Bar is situated on the corner of d'Angleterre and faces the streets of inner Copenhagen, whilst a caviar service, a huge headless angel statue and live DJ's at weekends add to the add to the sophisticated and modern climate.
Serving more than 160 different Champagne varieties champagnes from more than 42 different makers, the bar also serves signature cocktails and wines.
With a lavish bar menu, guests at Balthazar can also indulge in sophisticated snacks from caviar and oysters, with a choice of a more complete three-course dinner, all complemented by the beautiful Francophile décor.