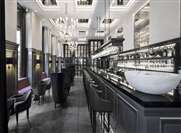 It would be quite easy to imagine yourself in a classic Parisian bistro once you've stepped through the door of New York's Balthazar Restaurant.
There's the room itself, a converted warehouse full of polished wood and mirrors. Then there's chef de cuisine Simon McBride's menu, which is full of bistro classics such as salade Niçoise, steak au poivre, duck confit, and côte de boeuf.
Finally there's the wine list, a 100-percent French affair that manages to squeeze in a great deal of interest—and numerous appellations—into a trim four pages of selections.
The choices are sound throughout, whether it's Bénédicte et Stéphane Tissot's Savagnin from the Jura, Daniel Dampt's Vaillons Chablis, or Marcel Deiss's Edelzwicker "Schoffweg" from Alsace. Prices are fair, too, with choices catering to every budget, from a 15-oz carafe of Lacarelle Beaujolais-Villages at $23 to a magnum of Dujac Bonnes Mares Grand Cru 2006 ($1,200) on the star-studded "Vin de Réserve" list.