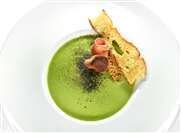 Beckta wine bar and dining showcases a contemporary menu that draws upon seasonal local and organic products.
The wine list has a great array of local Canadian wine, including "Cuvée Blu" Riesling/Viognier, Pearl Morisette, Redfoot Vineyard, Lincoln Lakeshore; Chenin Blanc (Botrytis Affected) "Smith Vineyard" Big Head, VQA Niagara Lakeshore; and "Seriously Cool" VQA Gamay from Southbrook, Ontario. The Canadian collection is accompanied by a good selection of international labels, covering Mediterranean varietals such as Assyrtiko "Thalassitis" Gaia, Santorini, and Spanish bottles that include Palomino Fino, Equipo Navazos + Niepoort, Jerez; Rioja Blanco, Contino; and Perill Blanc, Clos Lentiscus, Penedès.
Judges of the World's Best Wine Lists 2017 commented that the wine list was, "Clear and interesting", with a bit of everything and some lovely names. This comes as no surprise, for the list has been allocated into wine varietals and follows with examples from a range of countries and regions.