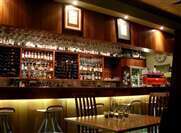 Since opening in April 2003 Benchmark Wine Bar was determined to be the only true wine bar in the Australian Capital Territory (ACT) and subsequently has established itself as a leader in wine knowledge.
This Australian wine bar plays with a simple but unique style to produce European cuisine that matches a respectable wine list.
The 2016 summer wine list was 'carefully constructed to reflect varieties that best typify regions and styles' from New World and Old World wines. A vast selection, it contains 100 wines by the glass and more than 400 by the bottle – a true wine bar.
Mains are changed often to reflect daily produce but a taster of the specials displays an exotic assortment of seafood, meat and vegetarian dishes including a local Snapper fillet, ratatouille, pea puree, lime and coriander alongside confit duck leg, carrot puree, baby beetroots, duck roulettes and savoury caramel.