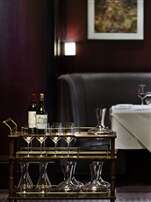 A modern vision of traditional Midwestern dining is on offer at Benny Siddu's Chicago update of the classic US steakhouse. Boasting a formidable range of prime USDA cuts of beef, steak, in all its forms, heads the menu, along with chops, ribs, and an array of seafood (lobster, scallops, Alaskan King Crab's legs), and smart accompaniments (truffle fries, wild rice).
It's a slick but welcoming environment where the superb wine-list plays an integral role. There's an encyclopedic feel to the selection of great red-wine producers from Bordeaux, Burgundy, Barolo, Barbaresco, Tuscany, and California, but this is no mere box-ticking exercise. Space is found too for lesser-known regions such as Mallorca, Lebanon, and Greece, while the by-the-glass selection includes a handful of mature "fine and rare curiosities"—at the time of judging, Balthasar Ress Hochheimer Domdechaney Riesling Spätlese 1994 looked particularly inviting.
Judges of the World's Best Wine Lists 2017 commented that the wine list is "extensive and classic".