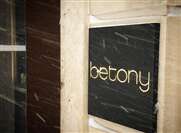 Executive chef Bryce Shuman, wine director Dean Fuerth and general manager Eamon Rockey have brought all their experience of New York fine dining to bear on the contemporary American restaurant Betony off Fifth Avenue in Manhattan.
As might be expected from a restaurant named after a strain of mint, the menu is big on simple combinations of fresh ingredients with dishes such as seared Brussels sprouts with millet and golden raisins; poached lobster with blood orange and tarragon; and chicken liver mousse with Granny Smith apple and rye.
The wine list is crisply presented and full of impeccable modern choices. Genuinely international in scope, it begins with a diverse by-the-glass program that takes in funky modern Australian Syrah from Jamsheed and ultra-traditional Rioja from La Rioja Alta; and fine Greek Assyrtiko from Santorini's Domaine Sigalas alongside Pierre-Yves Colin-Morey St-Aubin.
Arranged by grape variety, the full-bottle list continues in the same intelligently eclectic way, with a particular strength in Burgundy but plenty of talented producers from all over the modern winemaking world.