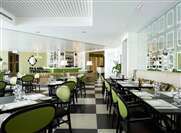 A Western Australian take on the traditional local Parisian bistro, but in a decidedly modern poolside setting in Perth, Bistro Guillaume Perth features the talents of chef Guillaume Brahimi in the kitchen.
Brahimi's menu has a cosmopolitan feel in dishes such as barramundi fillet on a bed of carrot and ginger puree, coriander butter, and pommes allumettes; or rack of lamb with confit tomatoes, white beans, and chorizo.
The wine list, meanwhile, is a compact but impeccably selected Franco-Australian affair, presenting the best of the domestic alongside the classics of the Old World. That means Riesling from Kalgan River in Albany, Xabregas in Mount Barker, and Grosset in Clare Valley alongside Alsace's Ostertag and Mittnacht, and it means Margaret River Bordeaux blends by the likes of Cullen and Moss Wood as well as well-chosen examples from Bordeaux itself such as Lynch-Bages 1995 or Haut-Brion 1983.