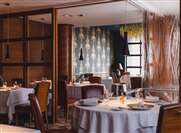 Sophistication and modernity are two words that come to mind when describing Bohemia, a Michelin starred restaurant in the heart of Jersey with first-rate cuisine and relaxed modern décor.
With a choice of seven menus including the 'Fantastic Bohemia Surprise Dinner' menu; culinary excellence and ingredient diversity are central to Bohemia's dining experience. Led by head chef Steve Smith, who has held a Michelin star for over fifteen years since the age of 24, dishes of pure sophistication, marrying unusual combinations of seasonal produce, will impress the diner. The focus is to extract maximum flavor and utility from each element, re-working traditional ingredients into innovative dishes such as crab tart with 'custard' or glazed duck breast and confit with rhubarb, pistachio, and kohlrabi.
The attention to detail and superb design of the food menus is also found in the wine list. With nearly 250 choices on offer, the list is divided in the majority between Italy and France, as well as some intriguing additions from more far-flung countries such as Bulgaria and Lebanon. When you also consider the extensive Grand Formats and equally impressive Champagne selections, the wine list rivals the gastronomy in terms of quality and versatility.