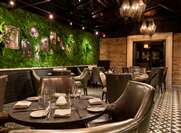 Founded by partners Kevin Boehm and Rob Katz, but with the kitchen now in the capable hands of rising-star executive chef Lee Wolen, Chicago's Boka offers a stylish take on contemporary modern American cuisine.
Freshness and clarity of flavor, based on surprising ingredient combinations, are the order of the day in dishes such as seared monkfish, fennel, apricot, oxtail, and hazlenuts or citrus poached Maine lobster with endive, chestnut, and coffee.
The wine list is no less innovative and creative, featuring, in the words of the judges at the World's Best Wine Lists 2015, "a selection of unique and classic wines from all over the world" that is "beautifully presented" with a likeable, "fun tone."
Highlights include a Coravin by-the-glass program that takes in intriguing choices such as Angelo Gaja's Tuscan white Ca'Marcanda Vistamare and Nickel & Nickel State Ranch Vineyard Napa Valley Cabernet Sauvignon, while a section devoted to "Wines we're into right now" featured, at the time of judging, two off-beat Loire wines: Domaine de l'Ecu's biodynamic Muscadet Orthogneiss and Domaine Philippe Tessier's red blend from the lesser-spotted Cheverny appellation.
Judges of the World's Best Wine Lists 2017 commented that the wine list was "extensive", and applauded it for its good by-the-glass options, fortified wines, and spirits collection.