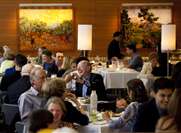 Star chef Daniel Boulud draws on the varied culinary traditions of the Mediterranean—Provence, Catalonia, Greece, North Africa, and Sicily among them—in the kitchen of his Boulud Sud in Manhattan.
It leads to beautifully presented dishes based on fresh ingredients such as sea urchin and crab tartine, with green olive, lemon cream, and seaweed rye bread or harissa-grilled lamb loin, m'hamsa, Algerian eggplant, and tzatziki.
The region's wines are the natural partners for this kind of cooking, and Boulud Sud includes a wide selection of Mediterranean bottles, from Provence (Château Simone Palette Blanc) to Corsica (Nicolas Mariotti Bindi Patrimonio Blanc Pastoreccie); and from Greece (Domaine Economou Sitia, Crete) to Israel (Shvo Vineyards Chenin Blanc, Upper Galilee).
These are presented alongside the usual, impeccable Boulud restaurant compilation of classic French wines, with Burgundy and the Rhône (including a section devoted to the Cornas appellation) particularly well represented on a smart, clearly presented list with just the right amount of background information.