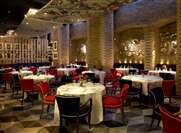 The sommelier team at the restaurant present an award-winning wine list that is arranged by region, while actively offering top-end and elusive wines that are hard to find elsewhere.
A good selection of wines is available by the glass and pichet, alongside several larger format bottles, including magnums, double magnums, jeroboams, methuselah and rehoboams.
Ranging from artisan and biodynamic growers to aristocratic European estates, the wine list features approximately 850 constantly changing references, both contemporary and traditional – with a particularly Old World European flavour.
The award-winning wine lists consists of great growers and winemakers from around the globe with a significant focus on fine Bordeaux and Burgundy, and the top wine brands in the northern and southern Rhône, as well as an excellent list of Italian red wines.
In 2009, the Boundary restaurant wine list won the National Restaurateurs Wine List of the Year. In 2011, it was runner-up in the Imbibe magazine National Wine List of the Year competition and in 2012 it was the winner of the Sommelier's Award. In 2013, the team won the Harper's Best Drinks Offer of the Year award and were a finalist in the Best French Wine List of the Year category.