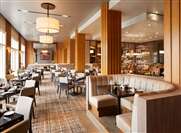 As ever with a restaurant that bears the imprimatur of top chef and restaurateur Michael Mina, wine is a vital part of the experience at Bourbon Steak.
For the judges at the World's Best Wine Lists 2015, this was especially true of the fine by-the-glass selection, which has a pleasingly eclectic feel, and which makes use of the Coravin wine extraction system to include a number of fine wines.
Highlights at the time of judging were Zind-Humbrecht Riesling Brand Grand Cru 2005 from Alsace, Hirsch Vineyards Sonoma Coast Chardonnay 2011, Domaine du Colombier Hermitage 2009, and Quintessa Cabernet Sauvignon, Rutherford, California 2010.
But the list is full of choices well tailored to the cuisine at a restaurant that is presented as a "redefinition" of the American steakhouse and where high-quality steak is inevitably at the core of the menu: a choice of Certified Prime, American Waguy, dry-aged, and Japanese Wagyu beef offered in a variety of sizes.
www.bourbonsteaksf.com